Becel Scratch & Win: $1,000,000 In Prizes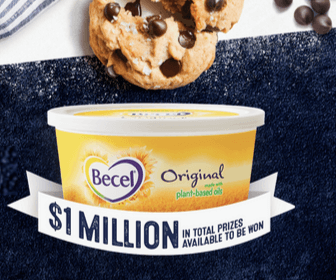 Share With Friends
Date: Sep 20th, 2019
Becel is giving away $1,000,000 in prizes during their Scratch & Win giveaway.
Purchase any Becel product and upload your receipt for your contest PIN, to enter for your chance to win:
There are 48,810 in prizes available to be won, including:
3 x $50,000 Grand Prize
40 x $5000 Retailer Gift Card
100 x $500 Retailer Gift Card
7000 x $50 Retailer Gift Card
41,667 x $6.00 off Becel Coupon
There is a limit of 5 entries per person
BONUS! After entering your first PIN, you'll get a coupon for $1.00 off any Becel product.
The contest closes on December 31, 2019.
You can also enter without making a purchase by: "On a plain piece of paper, hand-print your full name, email address, complete mailing address (including postal code), daytime telephone number (including area code), hand-print the words "Please send me a Contest PIN" on the piece of paper, include a self-addressed, postage paid return envelope with your request and mail your request and self-addressed, postage paid return envelope (one (1) request per outer envelope), fully postage paid, to: The Becel Bake from Scratch & Win Contest (NP PIN request), Dept 4046, Box 9500 Lakeshore West PO, Oakville ON, L6K 0G4. The failure to include a self-addressed, postage paid return envelope will deem you ineligible to receive a PIN".
Find more contests on our Contests Page.
Don't forget about another contest we found for the chance to win free diapers for a year!