+1 Ballot: 60% Off at Staples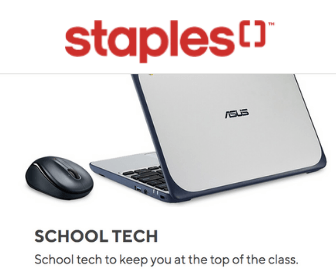 Share With Friends
Date: Aug 12th, 2019
Save big on Back To School items at Staples.
Our friends at Ebates have found another great deal from Staples! Check out the sale and get an additional 1 Ballot from Freebies.com, simply visit the link below, type 'Staples' in the search bar, and click on the Staples logo. Enjoy this awesome shopping trip!
Here are the sale details:
Get up to 60% off Back To School Tech at Staples, plus you'll enjoy up to a 6.0% Cash Back bonus through Ebates.
If you're not a member of Ebates, you can sign up today and get a $5 Cash bonus to go shopping!
This offer expires on August 13th.