Free Avengers Socks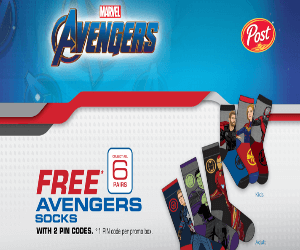 Share With Friends
Date: Apr 12th, 2019
Hey Marvel fans!
Purchase any 2 boxes of participating Post cereal and get a free pair of Avengers socks!
You can get a PIN code on any specially-marked box of cereal and you need 2 codes to get a pair of socks.
Input your pin codes online along with your shipping information to get your freebie. The participating cereals are:
Alphabits
Honey Bunches of Oats
Shreddies
Honeycomb
You must redeem the offer by May 31st, 2018.
Want more freebies? Check out our Free Samples Page.
If you love free stuff, why not try a hand at winning some prizes! Don't forget to check out our Exclusive Giveaway Prize Draws, you can use your ballots for your chance to win great stuff!
Good luck and enjoy!