Free A&W Coupons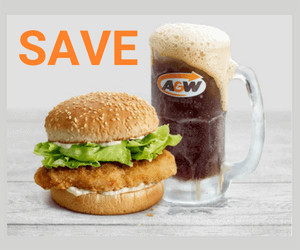 Share With Friends
Date: May 26th, 2021
Score awesome deals with these A&W coupons. Register or log in to claim your deals.
Current deals include:
$4.99 English Muffin Bacon & Egger Combo
$6.99 Teen Burger Combo
$5.99 Mama Burger Combo
$8.99 2 Mozza Burgers
$12.99 2 Teen Burger Combos
$7.49 Spicy Habanero Chicken Burger Combo
$8.99 2 Chubby Chicken Burgers and more!
These coupons expire on June 20, 2021, so hurry and claim them now.
For more coupons and savings, check out our Coupons Page.