Free Canidae Dog Food Coupon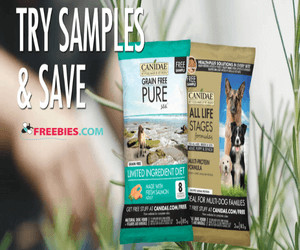 Share With Friends
Date: Oct 2nd, 2018
We've found more free pet samples!
Help to ensure your dog gets all the proper nutrition with Canidae.
Get a $5 off coupon for Canidae dog food when you sign up with your email and zip code here, while supplies last.
Canidae food is natural and contains vitamins and minerals.
Canidae offers always go super fast so be sure to hurry and get yours now.
Canidae All Life Stages recipes are vet formulated for dogs or cats of all ages, breeds, and sizes—making them ideal for multiple pet households. They come in larger size bags—up to 15 pounds for cats and 44 pounds for dogs—and offer great nutrition and real value!
Share this freebie with any other dog owners you know.
Want more exciting offers like this one? Sign up to be a Freebies member so you can earn points and redeem them towards our exciting members only prize draws!
Enjoy your free stuff by mail!