Free Sandwich at Arby's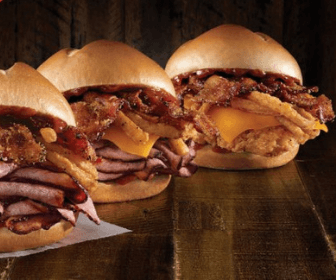 Share With Friends
Date: Apr 22nd, 2019
In need of a free and easy lunch during the busy week?
Sign up for the Arby's email list and you'll get a free signature sandwich with any soft drink purchase!
When you love something, sign up for its email list to receive news about new menu items and special offers. Because if you're into sandwiches, we're into you.
You'll become an Arby's insider with exclusive offers and deals that are not available to just anybody.
Sign up now and take advantage of all that Arby's Extras has to offer!
Find your nearest Arby's location through the link.
This is the sandwich that put roast beef on the map. Arby's classic roast beef is thinly sliced and piled on a toasted sesame seed bun. Try it with their delicious Arby's Sauce, or for an extra kick go with the zesty Horsey Sauce.
Want more freebies? Check out our Free Samples Page.
If you love free stuff, why not try a hand at winning some prizes! Don't forget to check out our Exclusive Giveaway Prize Draws, you can use your ballots for your chance to win great stuff!
Good luck and enjoy!