Win Build-A-Bear Pay Your Age Ticket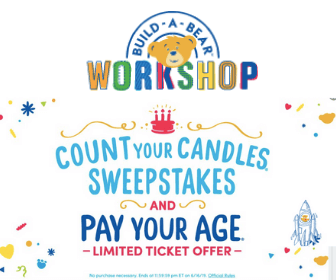 Date: Jun 12th, 2019
Do you remember last year's Build-A-Bear Pay Your Age Day promo?
To avoid any issues this year, they are offering 200,000 Pay Your Age Day tickets you can register to win online.
If you are selected, you can take your child to Build-A-Bear with the ticket from June 24-28 and get a bear for the price of your child's age. Limit 2 bears per child.
You need to sign in to your Build-A-Bear Bonus account or create a free one on the contest page.
Want more savings and deals? Check out our Coupons & Discounts.