12 Classic Family Movies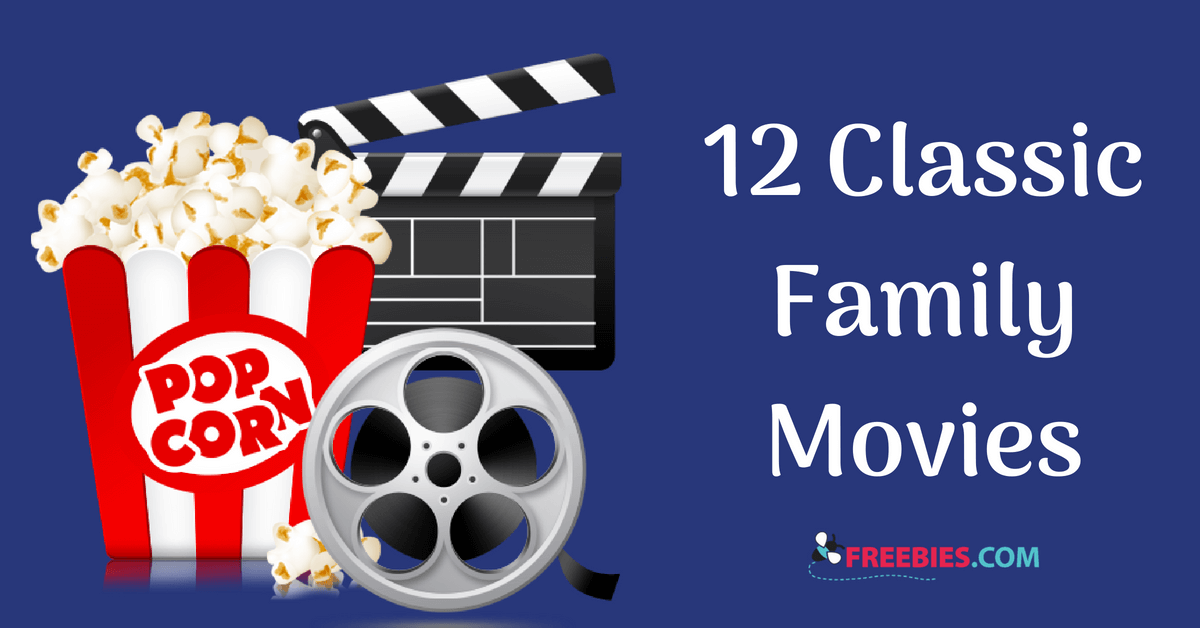 You may have noticed that we've posted about movies a few times lately. Last week we posted a Shareable on upcoming Disney remakes and sequels of classic family movies like Mary Poppins, The Lion King, Toy Story, and more. Last month, we included family movie nights as one of the best free family activities.
Family movie nights are fun, free, and a great way to spend time together making memories. Thanks to online streaming services and movie sites, it's so easy to find new titles. But sometimes the choices seem overwhelming, so we've created our list of favorite classic family movies for a movie night.
This list includes hit films from the 1960s to the 2000s, so get ready for some nostalgia!
The Sound Of Music
This classic musical has been a staple in many families since it was released back in 1965. With beloved songs like "My Favorite Things" and the incredible acting of Julie Andrews, this movie is entertaining and touching. The Sound of Music follows Maria (Andrews), a former convent student who takes over as governess for the family of widowed Austrian naval captain in the 1930s.
Bedknobs and Broomsticks
This classic 1971 musical comedy takes place in England during World War II and tells the story of an apprentice witch named Eglantine Price, who looks after 3 siblings at her home during the War. This film stars Angela Lansbury as Price and combines animation, adventure, magic, and music!
Willy Wonka & The Chocolate Factory
This 1971 film based on the novel by Roald Dahl has it all: humor, music, dancing, Oompa Loompas, and insightful lessons. The story of Charlie Bucket touring Willy Wonka's factory with his grandfather has warmed hearts around the world. The film was remade back in 2005 as Charlie and The Chocolate Factory with Johnny Depp playing Willy Wonka. There are minor plot differences between the films and both are worth definitely worth watching!
The Goonies
Did you know that this 1985 film was written by powerhouse filmmakers Steven Spielberg and Chris Columbus? This iconic 1980s film tells the story of a group of children who go searching for treasure in hopes of saving their neighborhood. This movie is a great testament to friendship and adventure.
The Land Before Time
Another family hit from Spielberg! This 1988 animated adventure follows an orphaned brontosaurus named Littlefoot who ventures across the Great Valley with his fellow dinosaur friends. This film inspired many sequels, but the first is truly the best.
Mrs. Doubtfire
This 1993 film starring Sally Field and Robin Williams is both hilarious and heartwarming. Williams plays divorced dad Daniel Hillard, a man who disguises himself as a nanny named Mrs. Doubtfire to spend more time with his children. This film combines humor with the relatable struggles of divorced families.
Homeward Bound: The Incredible Journey
This 1993 movie is fun and inspiring. This exciting movie follows two dogs and a cat who escape a ranch to try and find their family after being dropped off at the ranch while their family goes on vacation. This movie is a harrowing story of courage and family.
A Goofy Movie
This 1995 animated feature is considered by many to be one of the most underrated Disney films. This animated musical comedy follows Goofy as he takes his teenage son Max on a road trip across the country. This film features some great 1990s music and dance numbers. You may find yourself dancing along to this film's great hit songs like "Stand Out" and "I2I".
Space Jam
Space Jam combines basketball, Michael Jordan, and the classic Looney Tunes characters. What more could you need? Michael Jordan has to help save the Looney Tunes gang from aliens in this 1996 live action-animated comedy. With a little help from friends like Bill Murray and Bugs Bunny, this movie is comedy gold.
The Parent Trap
This 1998 remake is a true 1990s classic and has become a bit of a cult classic in the past few years. This family comedy tells the story of 2 twins separated at birth who meet up at a summer camp and scheme to reunite their divorced parents. This movie stars Natasha Richardson, Dennis Quaid, and Lindsay Lohan. There is also the original 1961 film worth checking out!
Shrek
This 2001 animated comedy film inspired 3 sequels. This film has an all-star cast that includes Mike Meyers, Eddie Murphy, and Cameron Diaz. This film flips fairy tales on their heads and tells the story of an ogre named Shrek (Meyers) who rescues a princess from a tower with the help of his trusted donkey. This movie (and its sequels) has jokes for both parents and kids alike.
Cheaper by the Dozen
This 2003 film starring Bonnie Hunt and Steve Martin is a great family movie. This movie follows parents Tom and Kate Baker and their 12 children as they move from the country to suburban Chicago. It's a great tale of family dynamics, change, and resilience - not to mention some great laughs.
Tell us Freebies.com members, what are your favorite family films of all time? Let us know in the comments below!
Sources:
https://www.imdb.com/title/tt0059742/
https://www.imdb.com/title/tt0067992/?ref_=nv_sr_1
ttps://www.imdb.com/title/tt0107614/?ref_=nv_sr_1
https://www.imdb.com/title/tt0089218/?ref_=nv_sr_1
https://www.imdb.com/title/tt0107131/?ref_=fn_al_tt_4
https://www.imdb.com/title/tt0095489/?ref_=nv_sr_1
https://www.imdb.com/title/tt0046183/?ref_=fn_al_tt_3
https://www.imdb.com/title/tt0066817/