The Best Sitcoms to Binge Watch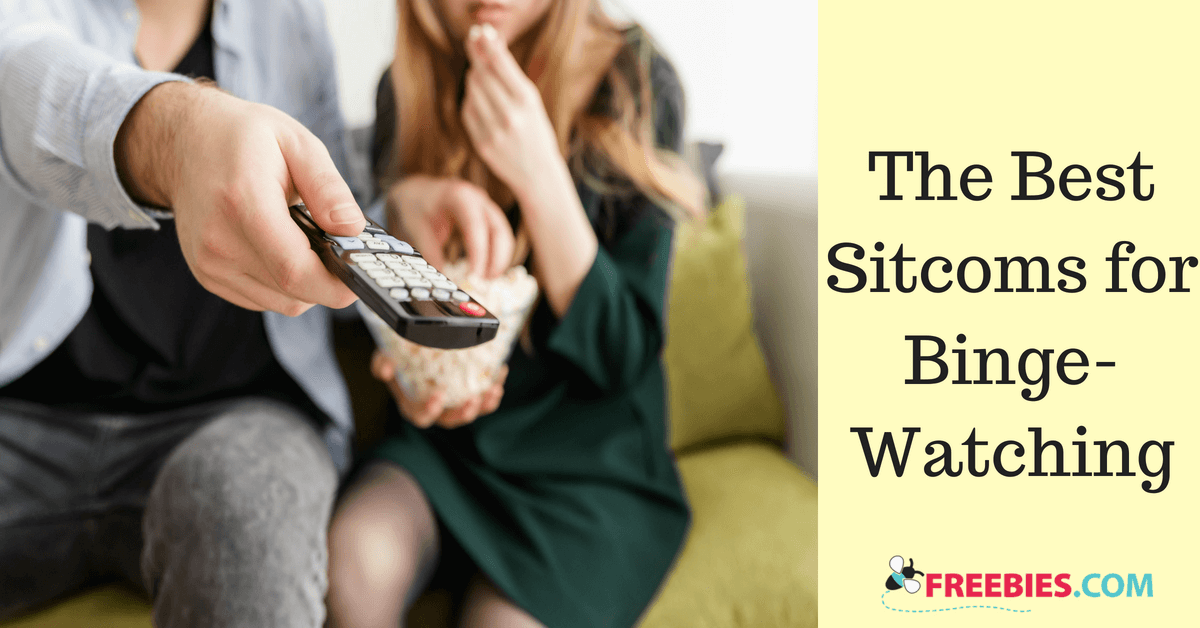 Let's be real, there's nothing like those feelings you get once you've finished a show - happiness, confusion, sadness, closure, the list goes on.
Then there's the big question - what to watch next? With so many streaming sites and services, there's a sea of shows to choose from. We always find sitcoms great for bingeing and background streaming.
Not sure where to start? We've compiled our list of the best sitcoms and comedy series to binge watch.
30 Rock
This series is comedy gold. Created by Tina Fey, this sitcom follows Liz Lemon (Fey) and her wacky ensemble of coworkers as they create a sketch comedy show. This hit series gets great laughs from Fey and her costars Alec Baldwin, Tracy Morgan, and Jane Krakowski. Fey and Krakowski went on to collaborate again with the Netflix hit The Unbreakable Kimmy Schmidt. If you like 30 Rock, make sure you check out The Unbreakable Kimmy Schmidt.
Seinfeld
This one should go without saying since it's one of the most popular sitcoms of all time. This 1990s series stars big names like Jerry Seinfeld, Julia Louis-Dreyfus, Jason Alexander, and Michael Richards. This show is described as a "show about nothing" and follows these characters and their everyday lives. Louis-Dreyfus went on to star in other hit shows The New Adventures of Old Christine and Veep that are also worth checking out.
Friends
Another 1990s classic, Friends is another classic sitcom about friends living in New York City. If you've never seen it, this series follows 6 friends living and working in New York City and helped launch the careers of Jennifer Aniston, Lisa Kudrow, Courteney Cox, Matt Leblanc, David Schwimmer, and Matthew Perry. This funny show is great for bingeing and some quick laughs.
The Office
The American remake of the British television series is truly hilarious. This show has found a new wave of popularity among younger generations thanks to streaming services like Netflix. This "mockumentary" follows the employees of a midsized paper chain in Scranton, Pennsylvania. This show features hilarious characters, relatable situations, and heartwarming takes on everyday life. This show features big names Steve Carell, John Krasinski, and Mindy Kaling.
That '70s Show
Take a trip to 1970s Wisconsin with That '70s Show. The show follows a group of high school kids (and some of their parents) navigating life in the 1970s. This show is funny and has just the right amount of nostalgia. Fun fact: real-life married couple Ashton Kutcher and Mila Kunis played a couple on this show years before getting together in real life.
Modern Family
This sitcom is actually still making new episodes! This show has been a hit since it first premiered back in 2009. This show is another mockumentary and follows a modern extended family. It features the grandfather and his much younger wife, the daughter and her three children, and the son married to his husband with their adopted child. Enjoy some laughs and sweet moments bingeing this one.
Arrested Development
This show is also still airing. After a many year hiatus, this comedy was brought by Netflix. This show follows the dysfunctional and formerly wealthy Bluth Family as they try and navigate life after their father is imprisoned. The most level-headed son, Michael, takes over but managing his family members is no easy feat. This dark comedy is laugh out loud funny and great for when you need a quick pick me up. Plus, it has an all-star cast featuring Jason Bateman, David Cross, Portia de Rossi, Will Arnett, and even guest stars Liza Minnelli. Look out for cameos from big stars like Amy Poehler, Julia Louis-Dreyfus, and Charlize Theron.
Golden Girls
This classic comedy from the 1980s a true tale of friendship. This series follows four older women who have all previously been married and are now living together in Miami. No matter your age, this funny show will put a smile on your face.
The Nanny
This sitcom is the epitome of 1990s nostalgia. This show follows a woman named Fran, who is fired from her job and dumped by her boyfriend and becomes a nanny for a wealthy Manhattan family. Featuring Fran Drescher as Fran, other hilarious characters include the family butler Niles, and Fran's nemesis CeCe, this show is laugh out loud funny. Look out for some amazing 1990's fashions!
Full House
Full House is good old-fashioned family fun! This 1990s show follows a widowed dad raise his 3 daughters with the help of his brother-in-law and best friend. This show features stars Bob Saget, John Stamos, and the Olsen twins. Bonus: Once you finish this series, you can catch the current spinoff Fuller House on Netflix.
Will & Grace
For great laughs and light-hearted fun hang out with best friends Will, Grace, Jack, and Karen on Will & Grace. This beloved sitcom is based on 2 best friends and roommates, lawyer Will and interior designer Grace, and their friends Jack and Karen. Like Full House, this show was recently revived and has fun new episodes ready for you to binge.
What are your favorite sitcoms to binge? Let us know in the comments below!