This is an Members Only Draw offered by Freebies.com for our members only! Use your All Time Points to buy entries into prize draws you'd like to win. When the entries limit is reached, we'll do the draw!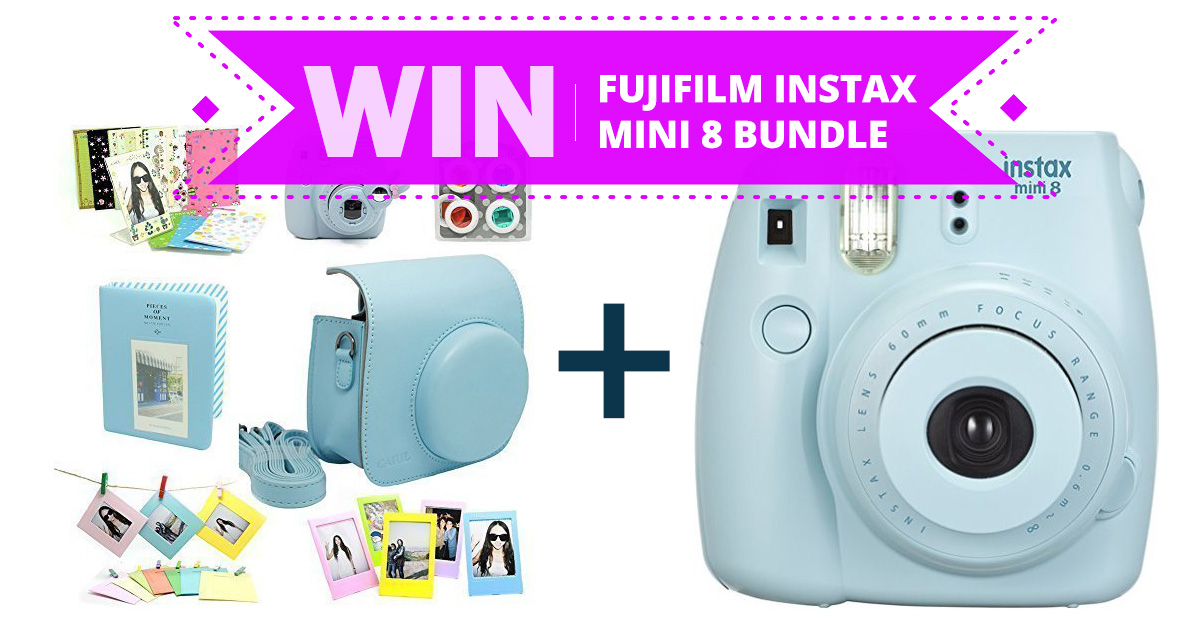 ---
This is a Members Only Draw offered by Freebies.com for our members only! Use your All Time Points to buy entries into prize draws you'd like to win. When the entries limit is reached, we'll do the draw!
Save instant memories with an instant camera of your very own! We're giving you the chance to win a Fujifilm Instax Mini 8 Instant Camera so you can photograph the world around you and keep the memories forever. The Fujifilm Instax Mini 8's cute and compact design equals instant photos and instant fun.
The Instax Mini 8 Instant Camera boasts ease of use and an attractive design. They offer new features and enhancements compared to the older Instax models. Fujifilm have made it even easier to carry around this mini camera! Your new camera has automatic exposure measurement, which means the camera signals the recommended aperture setting with a flashing LED. The Instax Mini 8 automatically determines the best brightness for taking a picture, and informs you of the suitable setting by lighting the corresponding lamp. Turn the brightness adjustment dial to the position (mark) of the lit lamp. This helps capture the perfect photo every single time! It has a new New High-Key mode, to take brighter pictures with a soft look, perfect for portraits! The newly improved viewfinder brings greater clarity and visibility to photos.
The cute and compact Fujifilm Instax Mini 8 Instant Camera takes bold, vibrant pictures bringing fun and excitement to your everyday life with instant photos! If vintage flair is your style, you will love the way these instant photos look. It is definitely an instant camera that's easy to use and is a reminder of the days before digital cameras. Each photo printed is about the size of a credit card, with a thick white border around it, perfect for notes and captions, a nice personal touch.
We all take photos with our phones nowadays, but what do we do with these photos They sit in our camera roll until we decide they aren't needed, we delete them without a second glance! With the new Fujifilm Instax Mini 8 you can save lasting impressions of your memories with a physical copy of your photo, just with the touch of a button. We live in a world where Instagram reigns supreme, this Instax Mini 8 Camera can get you that filtered, retro look with way more fun involved! Just think of all the cool things you can do with your printed photos! Share them with your friends or create a one-of-a-kind gifts. Keep your photos in an album, stick them on your wall, a bulletin board, anywhere!
Fujifilm has been producing innovative photography products since 1934 and continues to apply their core photographic technologies to a diverse range of fields.
Your chance of winning this Members Only Draw depends on how many entries you use, and how many other Freebies.com members enter. If you're not yet a Freebies.com member yet, don't worry, you can sign up for your Freebies.com membership here and earn an extra 500 bonus when you sign up and confirm your email address. Registering for your membership is quick and totally free, and you'll start earning points right away! It's so easy and fast to earn points here, check out our post on How to Earn Points so that you can enter more of our giveaways! You could be in the running to win other great prizes like a KitchenAid Food Processor, Bose Headphones, $500 Cash, a $100 Apple Gift Card, Dyson Vacuum and more.
One of the quickest and easiest ways to earn points is by completing our daily polls and answering riddles and trivia questions. We post new questions every single day so that you can earn more points to enter more sweepstakes!
When you're a member of Freebies.com, not only are you able to enter exclusive giveaways, you're in the running to win prizes just simply by being a member and earning points! Each month the top 50 points earners will win a guaranteed prize of either a $25 gift card or $5 gift card. Sounds easy, right? That's because it is!
To enter this sweepstakes click on the "Win This". Each entry costs 50 points, which will be deducted from your All Time Points bank. You can enter up to 50 entries, so feel free to stock up on entries for prizes you're really excited about, like this Fujifilm Instax Mini 8 Instant Camera! The winner will be drawn once the entries limit has been reached, hopefully the winner is you!
Remember, only Freebies.com members can earn points they can redeem for prizes in our exclusive prize draws. Not only will you get updates on the latest and greatest freebies, coupons and discounts, giveaways, and external prize draws, you'll earn points to enter draws like this one.
Draw Completion
When this reaches 100% we do the draw
Your Entries:
/ 100
Your total number of entries for this draw
Member Entries:
20010
Total entries for this draw from all members
Entries Left:
-10
Once this number reaches zero, we do the draw
Winner is:

Malaury

From Canada