This is an Members Only Draw offered by Freebies.com for our members only! Use your All Time Points to buy entries into prize draws you'd like to win. When the entries limit is reached, we'll do the draw!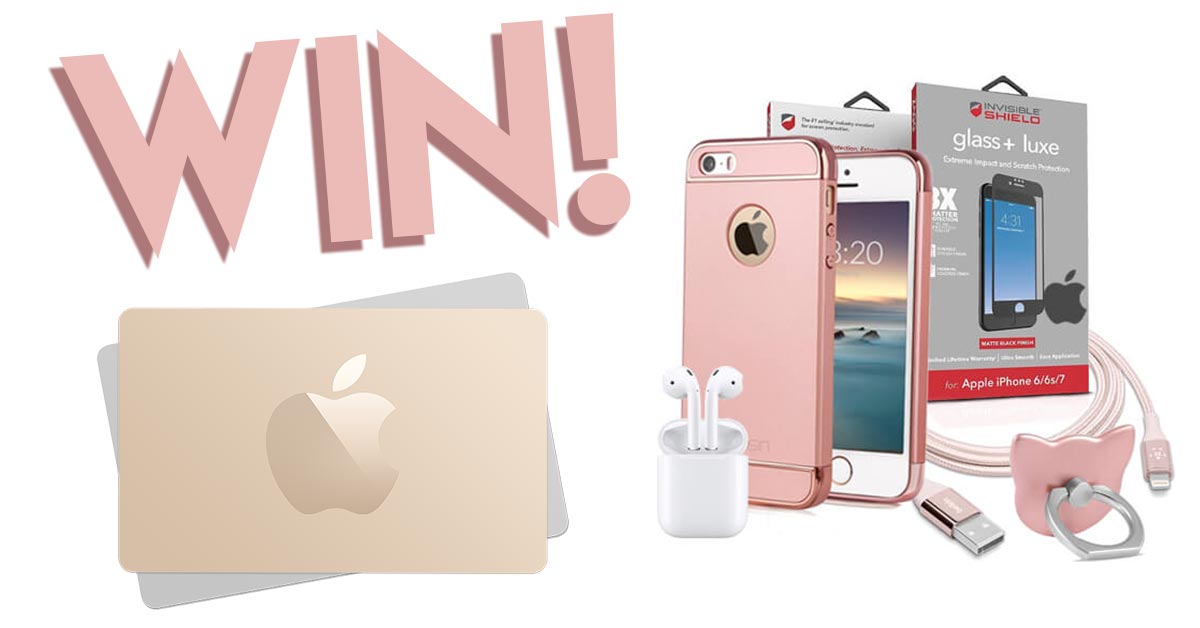 ---
This is a Members Only Draw offered by Freebies.com for our members only! Use your All Time Points to buy entries into prize draws you'd like to win. When the entries limit is reached, we'll do the draw!
Deck out your iPhone with all the greatest accessories! Treating yourself is easy when you enter to win a gift card from Freebies.com! We're giving you the chance to win a $100 Apple Gift Card, so that you can purchase everything on your wishlist. From screen protectors to headphones, charging cables to cases, you will be able to find everything to accessorize your iPhone.
Every phone needs a case. In terms of protection, the cases from Apple are top notch! They will keep your phone safe as well as stylish, which is probably the most important part anyway. They come in endless color options so you will definitely find the right one for you.
When it comes to 100% protection, a screen protector is your best friend. Made from highly durable material and scratch resistant/chip resistant, a strong protector will guarantee your cell phone the best protection against drops, bumps, scratches and normal wear and tear. And as someone who is always dropping their phone, I need all the protection I can get!
You could use your new Apple gift card to purchase a brand new set of Apple headphones! Listen to music, participate in hands-free phone conversations, listen to your favourite podcast, the possibilities are endless.
You can also update that frayed, taped together and possibly broken charging cable with a longer, more stronger model. No phone can be without a charger!
The Apple brand has been well-known for years. It's safe to say we all know more than one person who owns an iPhone. Steve Jobs, Apple founder, called the first iPhone "magic." And he was right! Over a decade later, there is no doubt of the profound impact this smartphone has had on the mobile industry.
Remember, only Freebies.com members can earn points they can redeem for prizes in our exclusive prize draws. Not only will you get updates on the latest and greatest freebies, coupons and discounts, giveaways, and external prize draws, you willl earn points to enter draws like this one.
Your chance of winning this Members Only Draw depends on how many entries you use, and how many other Freebies.com members enter. If you're not yet a Freebies.com member yet, don't worry, you can sign up for your Freebies.com membership here and earn an extra 500 bonus when you sign up and confirm your email address. Registering for your membership is quick and totally free, and you'll start earning points right away! It's so easy and fast to earn points here, check out our post on How to Earn Points so that you can enter more of our giveaways! You could be in the running to win other great prizes like Starbucks Gift Cards, iTunes Gift Cards, Dyson Vacuum, KitchenAid Food Processor and more. We add new Members Only Draws every single week, so keep checking back and keep saving up your All Time Points for something great!
One of the quickest and easiest ways to earn points is by completing our daily polls and answering riddles and trivia questions. We post new questions every single day so that you can earn more points to enter more sweepstakes!
When you're a member of Freebies.com, not only are you able to enter exclusive giveaways, you're in the running to win prizes just simply by being a member and earning points! Each month the top 50 points earners will win a guaranteed prize of either a $25 gift card or $5 gift card. Sounds easy, right? That's because it is!
To enter this sweepstakes click on the "Reedem Point" button. Each entry costs 50 points, which will be deducted from your All Time Points bank. You can enter up to 50 entries, so feel free to stock up on entries for prizes you're really excited about, like this $100 Apple Gift Card! The winner will be drawn once the entries limit has been reached, hopefully the winner is you!
Draw Completion
When this reaches 100% we do the draw
Your Entries:
/ 100
Your total number of entries for this draw
Member Entries:
12509
Total entries for this draw from all members
Entries Left:
-9
Once this number reaches zero, we do the draw
Winner is:

kenneth

From Canada