This is an Members Only Draw offered by Freebies.com for our members only! Use your All Time Points to buy entries into prize draws you'd like to win. When the entries limit is reached, we'll do the draw!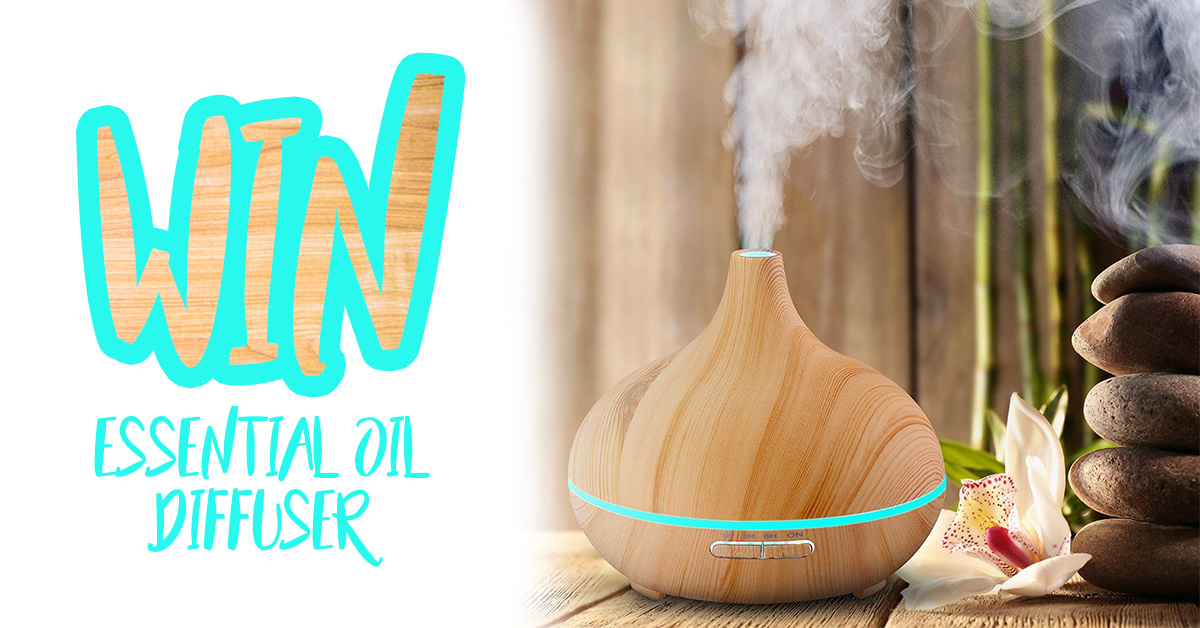 ---
This is a Members Only Draw offered by Freebies.com for our members only! Use your All Time Points to buy entries into prize draws you'd like to win. When the entries limit is reached, we'll do the draw!
The use of essential oils for healthy living has been booming over the past few years! We want to help you start towards a healthier life by giving you the chance to win the best essential oil diffuser! Enter this MOD and you'll be in the running to win a VicTsing Wood Grain Essential Oil Diffuser.
It's not just an oil diffuser though, it's also a cool mist humidifier, perfect for the dryer months. The unique and compact design as well as whisper quiet technology make this the perfect addition to any room. With ultrasonic technology, this humidifier is extremely quiet when working. It gives out ultra fine and smooth mist which can soften and moisten dry and chapped skin in winter.The aroma diffuser is coated in a beautiful wood grain finish, it will look beautiful your home! Its large capacity and great mist output can't be beat, it can hold up to 300ml of water and produce up to 30ml of moisture per hour for up to 10 hours. The feature I love the most on the VicTsing Wood Grain Essential Oil Diffuser is the adjustable LED light. You are able to choose between 7 colours and 2 modes.
Live a more natural life by diffusing only the best essential oils in your new diffuser. Diffusers disperse essential oils as a fine vapor throughout the air so they can be absorbed gently into the body through the respiratory system. The diffusing of essential oils has been proven to improve your health, increase your energy, and help with sleep. Help yourself rewind and relax after a hard day with oils like chamomile, lavender or clary sage. Set your diffuser on your bedside table for maximum benefits. If your mood needs boosting try sweet orange, jasmine, rose, sandalwood or vanilla to destress. When you feel a cold coming on try adding a little tea tree, sage, rosemary, grapefruit, lemon or thyme to your diffuser. If you have trouble breathing or are congested, diffuse peppermint, rosemary, lemon or eucalyptus. You can also create your own oil blends based on how you feel that day!
The health benefits are enormous! An essential oil diffuser is also a way to experience aromatherapy in your home. Through the air diffusion, a mere few drops of essential oils can deliver therapeutic aromatherapy throughout your entire home. Make your space feel like the most expensive and luxurious of spas with just a couple drops of your favourite essential oils. No matter what the desired effect may be, and with minimal effort, essential oil diffusion has endless possibilities for supporting health and wellbeing.
Remember, only Freebies.com members can earn points they can redeem for prizes in our exclusive prize draws. Not only will you get updates on the latest and greatest freebies, coupons and discounts, giveaways, and external prize draws, you'll earn points to enter draws like this one.
One of the quickest and easiest ways to earn points is by completing our daily polls and answering riddles and trivia questions. We post new questions every single day so that you can earn more points to enter more sweepstakes
Your chance of winning this Members Only Draw depends on how many entries you use, and how many other Freebies.com members enter.
When you're a member of Freebies.com, not only are you able to enter exclusive giveaways, you're in the running to win prizes just simply by being a member and earning points! Each month the top 50 points earners will win a guaranteed prize of either a $25 gift card or $5 gift card. It's that easy to win with Freebies.com!!
If you're not yet a Freebies.com member yet, don't worry, you can sign up for your Freebies.com membership here and earn an extra 500 bonus when you sign up and confirm your email address. Registering for your membership is quick and totally free, and you'll start earning points right away! It's so easy and fast to earn points here, check out our post on How to Earn Points so that you can enter more of our giveaways! You could be in the running to win other great prizes like a Lululemon Yoga Mat, The Body Shop gift set, a Dyson Vacuum, Yankee Candles, $500 Cash and more.
To enter this sweepstakes click on the "Win This". Each entry costs 50 points, which will be deducted from your All Time Points bank. You can enter up to 50 entries, so feel free to stock up on entries for prizes you're really excited about, like this VicTsing Wood Grain Essential Oil Diffuser! The winner will be drawn once the entries limit has been reached, hopefully the winner is you!
Draw Completion
When this reaches 100% we do the draw
Your Entries:
/ 100
Your total number of entries for this draw
Member Entries:
6250
Total entries for this draw from all members
Entries Left:
0
Once this number reaches zero, we do the draw
Winner is:

Melyssa

From Canada