This is an Members Only Draw offered by Freebies.com for our members only! Use your All Time Points to buy entries into prize draws you'd like to win. When the entries limit is reached, we'll do the draw!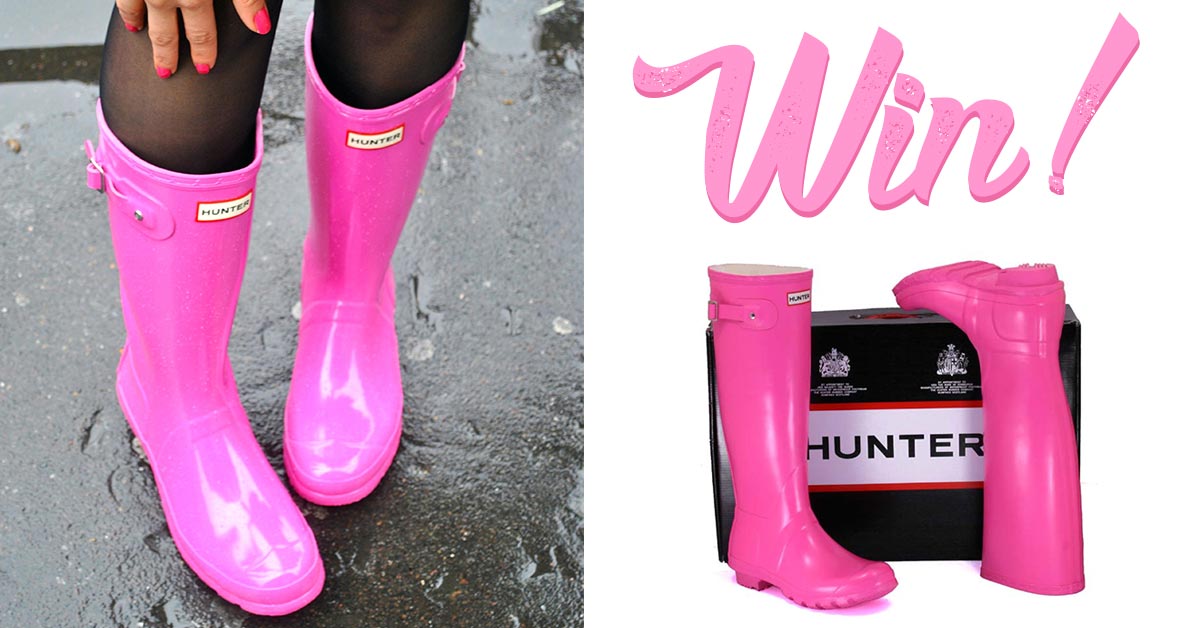 ---
This is a Members Only Draw offered by Freebies.com for our members only! Use your All Time Points to buy entries into prize draws you'd like to win. When the entries limit is reached, we'll do the draw!
Here's your chance to win some fancy footwear. Rain or shine, you'll love these pink Hunter boots, so enter for your chance to win your very own pair! The Hunter Original Tall Rain Boot is crafted by hand from 28 different parts and built to last. The exceptional fit and comfort of these boots are incomparable and the iconic Hunter style lies at the heart of their brand. Plus, they're pink!
It can be difficult to find a pair of rain boots that are both fashionable as well as functional, but Hunter makes sure their boots are the cream of the crop. They have made your average heavy, clunky rubber rain boot both functional and fashion friendly. And Hunter has a huge selection of colors to choose from! Perfect for that little pop of color. These boots are handcrafted and sealed to be waterproof with a textile lining, contain an original calendered outsole and are made from natural rubber. The sole of this fashionable footwear are also functional, they sport a textured base to make sure you don't slip. The rubber used to make these boots is thick and sturdy, but thin enough to be flexible. You'll be able to walk around with ease in these fancy boots. They will protect you from all elements and weather, so splish-splash away! Puddles are no match for Hunter boots.
Become a fashionista by winning these cute boots! Hunter boots have been worn by celebrities like Kate Moss, Alexa Chung, and Meghan Markle as a functional addition to any outfit. Pair with leggings for a sleek look or a skirt for a more flirty style. These Hunter boots will become a staple in your wardrobe regardless of the weather. They can be worn with thick socks in the winter to keep your feet warm and dry or with breathable socks in the warmer months. Regardless of weather, your feet will stay toasty and dry.
Hunter was founded in 1856 and are renowned for its iconic Original boot and hold two Royal Warrants of Appointment to HM The Queen and HRH The Duke of Edinburgh. Hunter is a progressive British Heritage brand and the launch of Hunter Original has seen 4 pioneering catwalk shows at London Fashion Week! Built on the philosophy of protection, intelligence and craftsmanship, Hunter's Field collection looks to their heritage of pioneering design to create advanced boots for all who need excellence in all types of weather and all landscapes.
Your chance of winning this Members Only Draw depends on how many entries you use, and how many other Freebies.com members enter. It's so easy and fast to earn points here, check out our post on How to Earn Points so that you can enter more of our giveaways!
You could be in the running to win other great prizes like a Dyson vacuum, Bose Headphones, a MAC Cosmetics gift card, Fujifilm Instax Mini 8 Instant Camera and more.
If you're not yet a Freebies.com member yet, don't worry, you can sign up for your Freebies.com membership here and earn an extra 500 bonus when you sign up and confirm your email address. Registering for your membership is quick and totally free, and you'll start earning points right away!
One of the quickest and easiest ways to earn points is by completing our daily polls and answering riddles and trivia questions. We post new questions every single day so that you can earn more points to enter more sweepstakes!
When you're a member of Freebies.com, not only are you able to enter exclusive giveaways, you're in the running to win prizes just simply by being a member and earning points! Each month the top 50 points earners will win a guaranteed prize of either a $25 gift card or $5 gift card. Sounds easy, right? That's because it is!
Remember, only Freebies.com members can earn points they can redeem for prizes in our exclusive prize draws. Not only will you get updates on the latest and greatest freebies, coupons and discounts, giveaways, and external prize draws, you'll earn points to enter draws like this one
To enter this sweepstakes click on the "Win This". Each entry costs 50 points, which will be deducted from your All Time Points bank. You can enter up to 50 entries, so feel free to stock up on entries for prizes you're really excited about, like these Hunter boots! The winner will be drawn once the entries limit has been reached, hopefully the winner is you!
Good luck!
Draw Completion
When this reaches 100% we do the draw
Your Entries:
/ 100
Your total number of entries for this draw
Member Entries:
25006
Total entries for this draw from all members
Entries Left:
-6
Once this number reaches zero, we do the draw
Winner is:

Marie josee

From Canada