This is an Members Only Draw offered by Freebies.com for our members only! Use your All Time Points to buy entries into prize draws you'd like to win. When the entries limit is reached, we'll do the draw!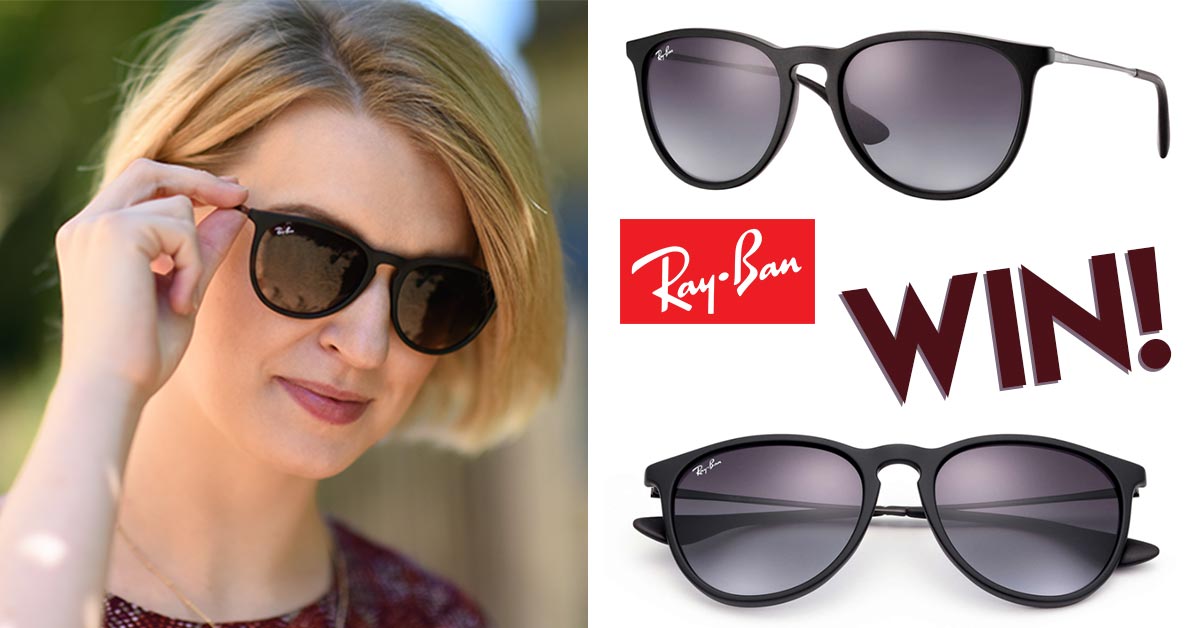 ---
This is a Members Only Draw offered by Freebies.com for our members only! Use your All Time Points to buy entries into prize draws you'd like to win. When the entries limit is reached, we'll do the draw!
Enter this giveaway for your chance to win a pair of Ray-Ban Erika Classic sunglasses! The Ray-Ban Erikas are the perfect accessory to complete any of your looks. The Erika sunglasses will set your look apart with their oversized frame, which are totally in-style right now! The round shape provides extra UV protection (100% protection!) while the soft bridge adds a fun twist to this design.
If you want something modern yet classic, the Erika sunglasses are the perfect fit for you. They have a completely unexpected style that is beyond cool. They boast classic and bright rubber fronts made from hypoallergenic propionate nylon for a comfy and stylish look. The rubberized front gives these sunnies a modern matte texture and rubber feel. The Erika sunglasses are also durable, flexible and resistant to warm weather. They feature a small white Ray-Ban signature on the right lens, a 3 barrel hinge, keyhole bridge and as well as metal temples and tone-on-tone temple tips. They come with a protective case and cleaning cloth too.
Ray-Ban truly are pioneers in the sunglasses industry. Throughout its seven and a half decades, Ray-Ban has been pushing boundaries in fashion and the world. In the 1930s, as new airplanes allowed people to fly higher and farther, many US Air Force pilots were reporting that the glare from the sun was affecting them with headaches and altitude sickness. Ray-Ban was the first to pioneer anti-glare eyewear with a classic Aviator shape, these were then remodeled with a metal frame and rebranded as the Ray-Ban Aviator. After this, Ray-Ban continues to expand and innovate. Everyone knows the classic Wayfarer style. Seen on the big-screen and on celebrities, this is one of the most popular styles Ray-Ban has created.
From James Dean to Audrey Hepburn to Michael Jackson, Ray-Ban has proven indispensable for cultural icons who don't want to be seen - but definitely want to be noticed. Winning a pair of these sunglasses not only means that you will be the height of fashion, it means you will own a pair of sunglasses that are high quality and will last you a lifetime. Made with only the best materials and cutting-edge technology you know you will be getting a good pair of glasses. You will not only look glamorous but feel like it too! Ray-Ban sunglasses are tested for comfort, you won't be disappointed with this pair. The lightweight material means you can wear them for hours with no marks or headaches.
Your chance of winning this Members Only Draw depends on how many entries you use, and how many other Freebies.com members enter.
If you're not yet a Freebies.com member yet, don't worry, you can sign up for your Freebies.com membership here and earn an extra 500 bonus when you sign up and confirm your email address. Registering for your membership is quick and totally free, and you'll start earning points right away! It's so easy and fast to earn points here, check out our post on How to Earn Points so that you can enter more of our giveaways! You could be in the running to win other great prizes like $500 Cash, a gorgeous Fossil watch, a state of the art Dyson vacuum, a Victoria's Secret gift card, Nike shoes and more.
When you're a member of Freebies.com, not only are you able to enter exclusive giveaways, you're in the running to win prizes just simply by being a member and earning points! Each month the top 50 points earners will win a guaranteed prize of either a $25 gift card or $5 gift card. It's that easy to win with Freebies.com!
Remember, only Freebies.com members can earn points they can redeem for prizes in our exclusive prize draws. Not only will you get updates on the latest and greatest freebies, coupons and discounts, giveaways, and external prize draws, you'll earn points to enter draws like this one.
One of the quickest and easiest ways to earn points is by completing our daily polls and answering riddles and trivia questions. We post new questions every single day so that you can earn more points to enter more sweepstakes!
To enter this sweepstakes click on the "Win This". Each entry costs 50 points, which will be deducted from your All Time Points bank. You can enter up to 50 entries, so feel free to stock up on entries for prizes you're really excited about, like these these gorgeous Ray-Ban Erika Sunglasses! The winner will be drawn once the entries limit has been reached, hopefully the winner is you!
Draw Completion
When this reaches 100% we do the draw
Your Entries:
/ 100
Your total number of entries for this draw
Member Entries:
25000
Total entries for this draw from all members
Entries Left:
0
Once this number reaches zero, we do the draw
Winner is:

Rosemary

From United Kingdom