This is an Members Only Draw offered by Freebies.com for our members only! Use your All Time Points to buy entries into prize draws you'd like to win. When the entries limit is reached, we'll do the draw!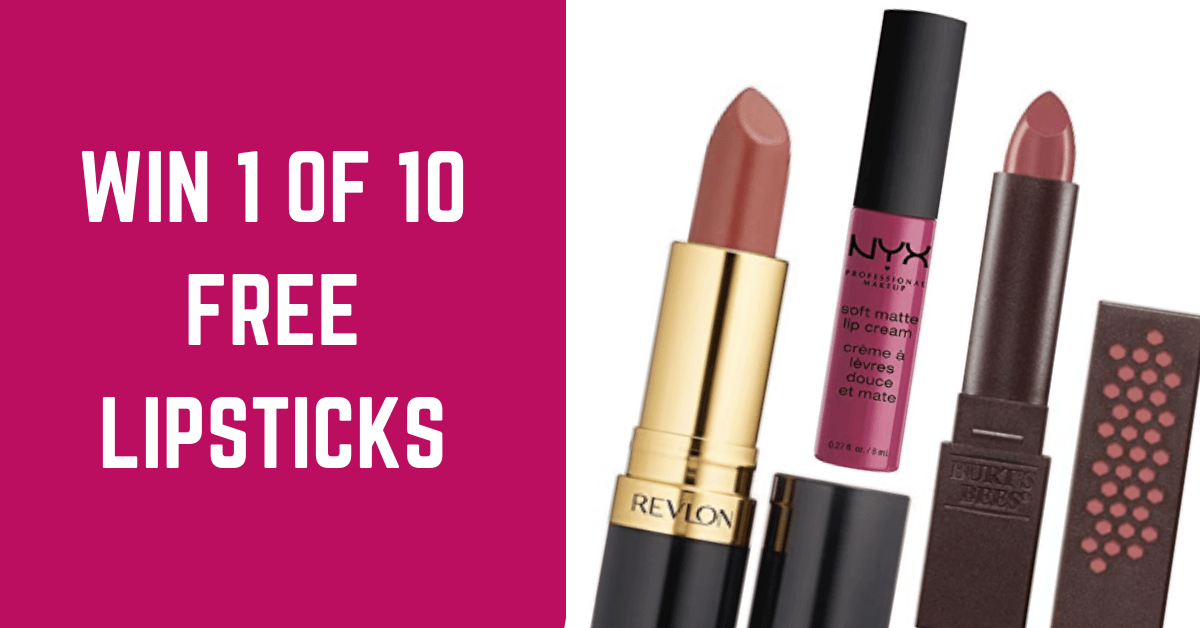 ---
We're giving away free lipstick to 10 lucky members and it could be you!
This is a Members-Only Draw exclusively open to Freebies.com Members. Use your points to buy entries for prize draws you'd like to win.
When the time is up, we'll do the draw! This giveaway ends on March 15th, 2019.
What Will I Win?
We've chosen three of our favourite lipstick brands that are great for every type of look, from the natural beauty to the trendy diva:
For the classic beauties, we're offering Revlon's Super Lustrous Lipstick which features a non-caking, lightweight formula for superior comfort formulated with vitamin E and avocado oil to seal in moisture.
Its micro-fine pigments make this lipstick high impact and will give you long-lasting color.
For those who prefer a soft natural look, we're offering Burt's Bees' 100% Natural Moisturizing Lipstick, which provides 8 hours of moisture leaving lips silky smooth with natural ingredients like Beeswax, Moringa Oil, Raspberry Seed Oil and Vitamin E, and formulated without parabens, phthalates, and petrolatum.
For the bold trendsetters, we're offering NYX's Soft Matte Lip Creme, a creamy yet intense matte finish that's light on the lips and heavy on the pigmentation.
Enriched with skin-smoothing silicones, this lipstick will keep your pout looking and feeling soft with a dreamy whipped texture.
How to Win
You can increase your chances of winning this Members-Only Draw by using your points to enter as many times as you wish. More entries = more freebies, which is always a good thing!
To enter this free lipstick giveaway:
Click on the "Win This" button.
Each entry costs 50 points, which will be deducted from your All Time Points bank.
You can enter an unlimited amount of times, so feel free to stock up on entries for prizes you're really excited about (like a free lipstick!)
Not a Freebies.com member yet? No problem!
Take a few seconds and make your free Freebies.com account here (you'll earn an extra 500 bonus points when you sign up and confirm your email address!)
Registering for your membership is quick and totally free (of course), and you'll start earning points right away! Take a look at our guide on How to Earn Points to learn how to earn points for free on our site.
Member Tip: One of the quickest and easiest ways to earn points is by completing our daily polls and answering riddles and trivia questions. We post new questions every single day so that you can earn more points for more entries!
The Rules
Remember, only Freebies.com members can earn points to redeem great prizes in our exclusive members-only prize draws.
As part of our Freebies Community, you'll not only get access to our Members-Only prize draws, but you'll also get updates on the latest and greatest freebies, coupons, discounts, giveaways, and contests!
This giveaway closes March 15th, 2019.
Ten (10) winners will be chosen to receive one (1) free lipstick each.
Must be a Freebies.com Member to enter.
Sound off in the comments below which is your favourite lipstick and which one you hope to win.
Good luck!
Can't wait to win this prize? Purchase your own here!
Looking for more beauty samples and tips?
Draw Completion
When this reaches 100% we do the draw
Your Entries:
/ 50
Your total number of entries for this draw
Member Entries:
4466
Total entries for this draw from all members
Members Only Draw Reached Time Limit.... Waiting For the Winner Selection