This is an Members Only Draw offered by Freebies.com for our members only! Use your All Time Points to buy entries into prize draws you'd like to win. When the entries limit is reached, we'll do the draw!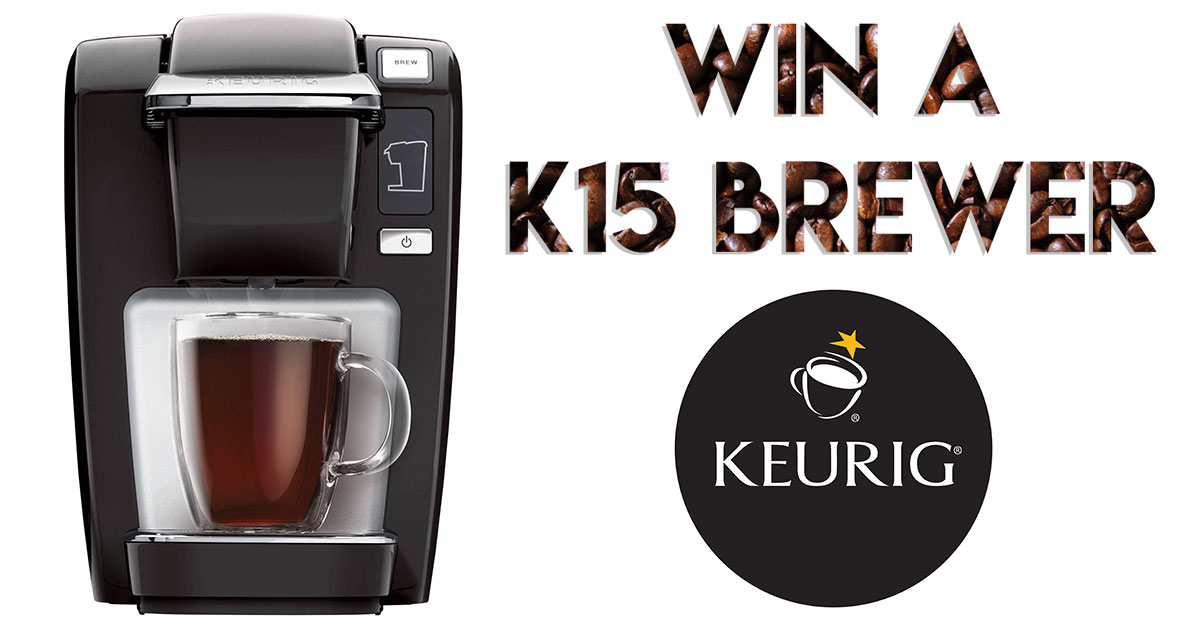 ---
This is a Members Only Draw offered by Freebies.com for our members only! Use your All Time Points to buy entries into prize draws you'd like to win. When the entries limit is reached, we'll do the draw!
Wake up with a delicious, perfectly brewed cup of coffee every morning with your very own Keurig K15 Brewer system! This compact coffee brewer is portable and the perfect size for your countertop. Small and personal; great for small spaces and portable design goes anywhere. It brews 3 cup sizes in under two minutes so your mornings are always quick!
This system brews coffee, tea, hot cocoa, as well as specialty drinks like apple cider and cappuccinos. It's like having a barista right in your kitchen! You can choose from 6 oz, 8 oz, and 10 oz sizes, all of which brew in under 2 minutes. Single cup water reservoir for ultimate portability, just add fresh water for each brew. The removable drip tray makes for easy cleaning!
Keurig brewers use k-cup technology, so that every cup you make is perfectly portioned. These coffee pods come in so many varieties you will be able to have a different drink every morning! Choose from over 500 brands and varieties of K-Cup Pods. Don't waste a whole pot of coffee by only drinking one or two cups, these single cup single serve portions are perfect. It's also compatible with the Keurig Classic Series My K-Cup Reusable Coffee Filter, so you can brew your own ground coffee.
Simple touch buttons make your brewing experience stress free, and because fresh water is added for each individual brew, the K15 coffee maker is portable and travel-friendly. You can create and customize your perfect beverage, at the touch of a button, and prepare coffee, tea, cocoa and more just the way you like it.
I love being able to customize my beverage by choosing the flavours and size! It's really easy to make the perfect cup of coffee, or a steaming cup of cocoa. When you use the K15 Keurig Brewer to make tea, you don't have to worry about boiling the kettle or throwing out soggy tea bags! Just discard the used k-cup and your brewer is ready for round 2! Fill up the reservoir and you will be able to make a cup of something different right away. This is perfect for couples where one loves coffee and the other loves tea. The K15 Keurig Brewer is also perfect for the office. Everyone can make their preferred beverage with no waste!
Keurig's purpose is to create the ultimate beverage experience in every life they touch from source to cup. Their mission is to create a Keurig coffee maker for every counter and a beverage for every occasion. With the touch of a button, they enable consumers to self-create high-quality beverages that personally satisfy any in-the-moment beverage need, as well as those of their families and guests.
Remember, only Freebies.com members can earn points they can redeem for prizes in our exclusive prize draws. Not only will you get updates on the latest and greatest freebies, coupons and discounts, giveaways, and external prize draws, you'll earn points to enter draws like this one.
One of the quickest and easiest ways to earn points is by completing our daily polls and answering riddles and trivia questions. We post new questions every single day so that you can earn more points to enter more sweepstakes
Your chance of winning this Members Only Draw depends on how many entries you use, and how many other Freebies.com members enter.
When you're a member of Freebies.com, not only are you able to enter exclusive giveaways, you're in the running to win prizes just simply by being a member and earning points! Each month the top 50 points earners will win a guaranteed prize of either a $25 gift card or $5 gift card. It's that easy to win with Freebies.com!!
If you're not yet a Freebies.com member yet, don't worry, you can sign up for your Freebies.com membership here and earn an extra 500 bonus when you sign up and confirm your email address. Registering for your membership is quick and totally free, and you'll start earning points right away! It's so easy and fast to earn points here, check out our post on How to Earn Points so that you can enter more of our giveaways! You could be in the running to win other great prizes like $500 Cash, a Fitbit Charge 2, Lululemon Yoga Mat, $50 MAC gift card, Burt's Bees Essential Everyday Beauty Gift Set, Nike shoes and more.
To enter this sweepstakes click on the "Win This". Each entry costs 50 points, which will be deducted from your All Time Points bank. You can enter up to 50 entries, so feel free to stock up on entries for prizes you're really excited about, like this Keurig K15 Brewer! The winner will be drawn once the entries limit has been reached, hopefully the winner is you!
Draw Completion
When this reaches 100% we do the draw
Your Entries:
/ 100
Your total number of entries for this draw
Member Entries:
12505
Total entries for this draw from all members
Entries Left:
-5
Once this number reaches zero, we do the draw
Winner is:

Jennifer

From USA