This is an Members Only Draw offered by Freebies.com for our members only! Use your All Time Points to buy entries into prize draws you'd like to win. When the entries limit is reached, we'll do the draw!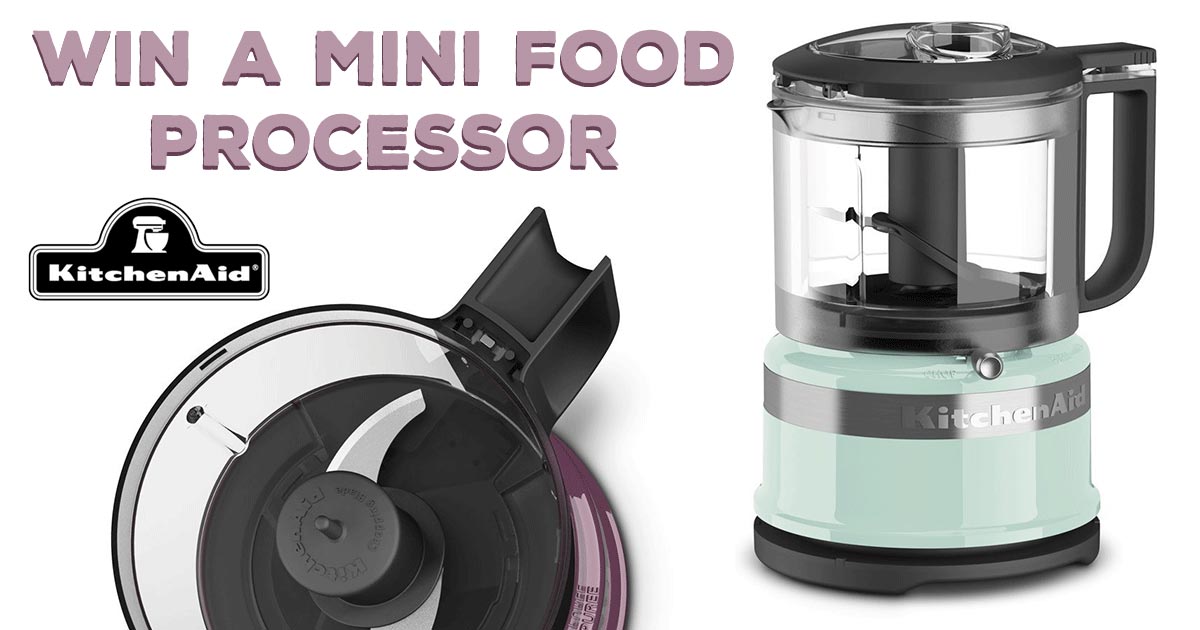 ---
This is a Members Only Draw offered by Freebies.com for our members only! Use your All Time Points to buy entries into prize draws you'd like to win. When the entries limit is reached, we'll do the draw!
A good quality food processor makes so many kitchen tasks easier! A quick blitz in one of these machines chops, purees and even mixes. Enter for your chance to win your very own KitchenAid Mini Food Processor. The 3.5 cup capacity is the perfect size for most recipes and you won't have to worry about it taking too much room up on your countertop or in your cupboard.
It's compact and lightweight, ideal for everyday use whether you want to eat healthier, be more creative or just save time during meal prep. This efficient little machine packs a big punch. It's 2 speed and pulse operation gives you precise control to produce coarse or tine results. It features a locking blade, handle and pour soup for easy serving. It's easy to clean, just toss the bowl, blade and lid into your dishwasher and forget about scrubbing!
Chop herbs, nuts, veggies with ease with a KitchenAid Mini Food Processor! A great feature of this mini food processor is the drizzle basin. You can master tasty sauces and dressings by easily incorporating liquid ingredients while you process. This processor is compact and lightweight! It's great for quickly chopping ingredients, preparing dressings, sauces, and so much more. I love using mine to chop up onions and garlic, there is virtually no mess and you do not have to worry about the lingering scent on your hands. The stainless steel blade precisely chops and purees. It also locks in place for safe, convenient pouring.
There are endless recipes that you can add to your repertoire when you win your very own KitchenAid Food Processor. Try this easy hummus recipe, with only a few ingredients and a buzz in your processor you will be snacking on this classic dip. Toss in some mango chunks with a splash of coconut milk and pineapple juice for a refreshing mango sorbet treat! Curb your sweet tooth the healthy way by trying these raw walnut brownies, made right in your food processor. You don't even need to turn on the oven! Everybody should have a good pesto recipe in their arsenal, blitz up some basil along with other ingredients for a delicious simple basil pesto.
KitchenAid has been creating kitchen appliances to make your life easier since 1919. Their high-performance appliances are all created with the same attention to detail, quality craftsmanship, versatile technology and timeless design. The KitchenAid Mini Food Processor is no exception, you will be able to create delicious dishes at the touch of a button.
Your chance of winning this Members Only Draw depends on how many entries you use, and how many other Freebies.com members enter. If you're not yet a Freebies.com member yet, don't worry, you can sign up for your Freebies.com membership here and earn an extra 500 bonus when you sign up and confirm your email address. Registering for your membership is quick and totally free, and you'll start earning points right away! It's so easy and fast to earn points here, check out our post on How to Earn Points so that you can enter more of our giveaways! You could be in the running to win other great prizes like $500 Cash, a Dyson Vacuum, Ray-Ban Erika sunglasses, Burts Bees Beauty Gift Set, Starbucks Gift Cards and more.
One of the quickest and easiest ways to earn points is by completing our daily polls and answering riddles and trivia questions. We post new questions every single day so that you can earn more points to enter more sweepstakes!
When you're a member of Freebies.com, not only are you able to enter exclusive giveaways, you're in the running to win prizes just simply by being a member and earning points! Each month the top 50 points earners will win a guaranteed prize of either a $25 gift card or $5 gift card. Sounds easy, right? That's because it is!
To enter this sweepstakes click on the "Win This". Each entry costs 50 points, which will be deducted from your All Time Points bank. You can enter up to 50 entries, so feel free to stock up on entries for prizes you're really excited about, like this KitchenAid Mini Food Processor! The winner will be drawn once the entries limit has been reached, hopefully the winner is you!
Remember, only Freebies.com members can earn points they can redeem for prizes in our exclusive prize draws. Not only will you get updates on the latest and greatest freebies, coupons and discounts, giveaways, and external prize draws, you'll earn points to enter draws like this one.
Draw Completion
When this reaches 100% we do the draw
Your Entries:
/ 100
Your total number of entries for this draw
Member Entries:
6550
Total entries for this draw from all members
Entries Left:
-50
Once this number reaches zero, we do the draw
Winner is:

Mikaela

From Canada