This is an Members Only Draw offered by Freebies.com for our members only! Use your All Time Points to buy entries into prize draws you'd like to win. When the entries limit is reached, we'll do the draw!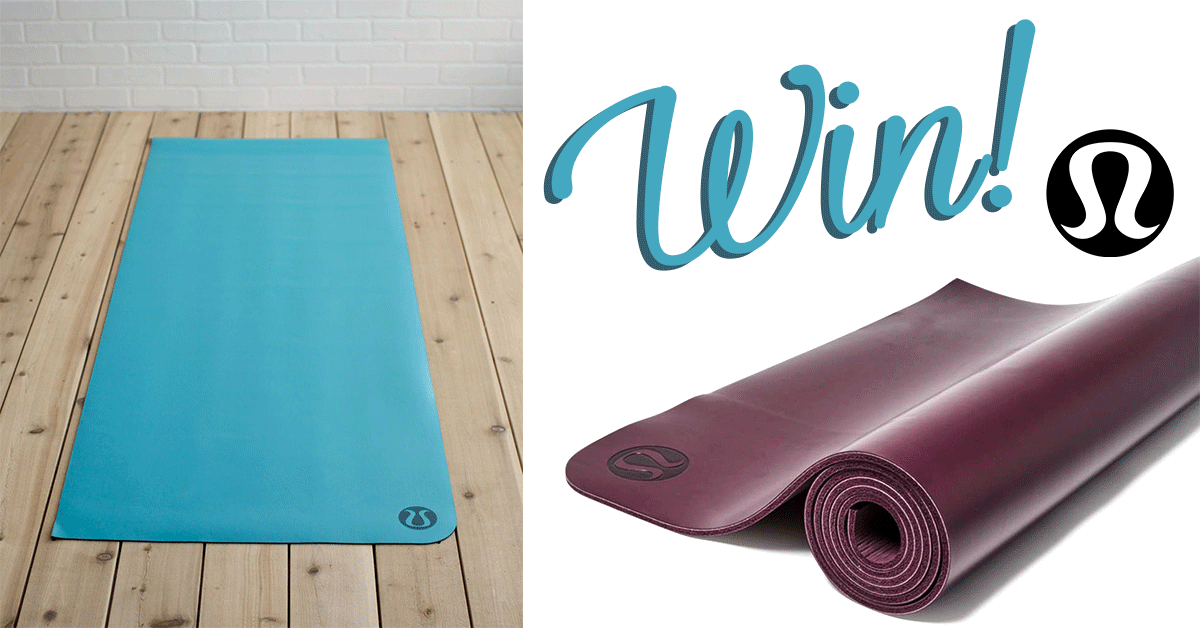 ---
This is a Members Only Draw offered by Freebies.com for our members only! Use your All Time Points to buy entries into prize draws you'd like to win. When the entries limit is reached, we'll do the draw!
Here's your chance to win the gift of good health! When you enter this giveaway, you will have the chance to win a high-quality Lululemon Yoga Mat. The Lululemon Reversible Mat is designed with extra cushion for an extra comfortable yoga session. This type of mat is easier on your knees and hips during floor poses. Its natural rubber base gives you extra cushioning and grip. An antimicrobial additive helps prevent mould and mildew, this is important when it comes to healthy exercising!
This particular mat is impressively sticky so you don't slip and slide, easy to wipe clean, comfortable and stable! Your hands and feet won't budge and the 5 millimeters of natural rubber provides plenty of padding for knees. It's slightly oversized, 3 inches longer and 2 inches wider than a standard mat, which gives you some breathing room but doesn't take up tons of space in a cramped class. This is truly one of the best yoga mats out there in terms of quality and comfort. Even if you are only doing light stretching on this mat, it will be worth it to enter using your points!
Lululemon is the biggest name in yoga and exercising! Their roots begin in Vancouver, Canada where the vision for their store was to create more than a place where people could get gear to sweat in. They wanted a place where people could learn and discuss the physical aspects of healthy living, mindfulness and living a life of possibility!
Today, Lululemon is known around the world for being a pioneer of yoga equipment. Yoga has evolved over thousands of years to embrace a wide range of styles and disciplines! It has become one of the most popular low-impact exercising, it's proven to lower blood pressure and increases strength and flexibility. Each yoga style is unique, you can find the best style for you whether you're an athlete, child, senior, or just looking to move a little.
Yoga has many benefits! Prevent injuries by doing yoga, each muscle will be stretched out and strengthened with each pose you do. Strengthen your core! Yoga's focus on flexibility provides you with the power to push through personal limits. Connect your breath, because one of yoga's most important benefits is an inward focus of the mind. Bring awareness to your breath, clear your mind of distractions. It will also clarify your vision, building relaxation and mental clarity by practicing yoga is a powerful tool!
Remember, only Freebies.com members can earn points they can redeem for prizes in our exclusive prize draws. Not only will you get updates on the latest and greatest freebies, coupons and discounts, giveaways, and external prize draws, you'll earn points to enter draws like this one.
One of the quickest and easiest ways to earn points is by completing our daily polls and answering riddles and trivia questions. We post new questions every single day so that you can earn more points to enter more sweepstakes
Your chance of winning this Members Only Draw depends on how many entries you use, and how many other Freebies.com members enter.
When you're a member of Freebies.com, not only are you able to enter exclusive giveaways, you're in the running to win prizes just simply by being a member and earning points! Each month the top 50 points earners will win a guaranteed prize of either a $25 gift card or $5 gift card. It's that easy to win with Freebies.com!!
If you're not yet a Freebies.com member yet, don't worry, you can sign up for your Freebies.com membership here and earn an extra 500 bonus when you sign up and confirm your email address. Registering for your membership is quick and totally free, and you'll start earning points right away! It's so easy and fast to earn points here, check out our post on How to Earn Points so that you can enter more of our giveaways! You could be in the running to win other great prizes like $500 Cash, a Fitbit Charge 2, Cuisinart Griddler, $50 MAC gift card, Burt's Bees Essential Everyday Beauty Gift Set, Nike shoes and more.
To enter this sweepstakes click on the "Win This". Each entry costs 50 points, which will be deducted from your All Time Points bank. You can enter up to 50 entries, so feel free to stock up on entries for prizes you're really excited about, like this Lululemon Reversible Yoga Mat! The winner will be drawn once the entries limit has been reached, hopefully the winner is you!
Draw Completion
When this reaches 100% we do the draw
Your Entries:
/ 100
Your total number of entries for this draw
Member Entries:
9006
Total entries for this draw from all members
Entries Left:
-6
Once this number reaches zero, we do the draw
Winner is:

DiAnE

From Canada