Cinnamon Roll Poke Cake
Ratings & Reviews
---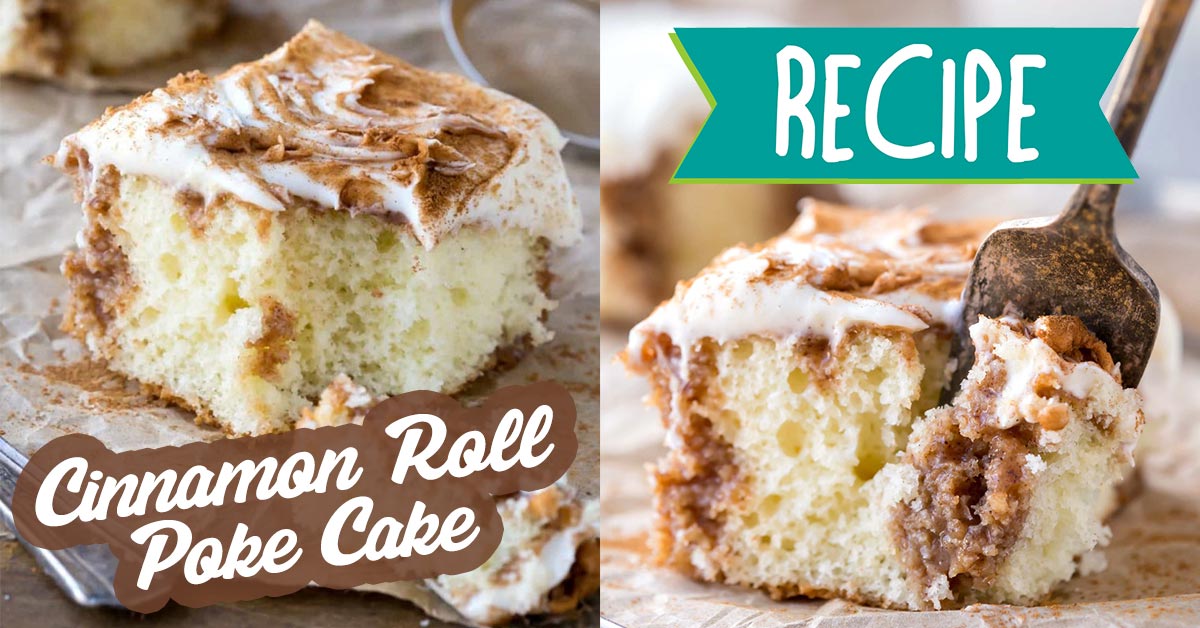 PREP TIME

COOKING TIME

Total Time

INGREDIENTS
CAKE
15.25 oz white cake mix
3 large eggs
1/2 c . milk
1/2 c . water
1/4 c . butter melted
FILLING
1/2 c . butter melted
1/2 c . brown sugar packed
1/2 c . fat-free sweetened condensed milk
1 T . ground cinnamon
1 tsp . vanilla extract
FROSTING
8 oz package reduced-fat cream cheese , softened
1/4 c . butter , softened
2 c . powdered sugar
2-3 T . fat-free sweetened condensed milk
1/2 tsp . vanilla
INSTRUCTIONS
Preheat oven to 350 F. Grease a 9x13-inch baking dish; set aside.
In a large bowl, mix together cake mix, eggs, milk, water, and butter on low for 30 seconds.
Turn speed up to medium, and mix together for 1-2 minutes, or until combined.
Pour batter into prepared baking dish.
Bake for 20-30 minutes, or until a toothpick inserted in the center comes out clean.
While the cake is baking, stir together butter, brown sugar, condensed milk, cinnamon, and vanilla extract. Set aside.
Using the handle of a wooden spoon (or similar instrument), poke holes in the cake (I poke about 35).
Pour filling mixture over warm cake, gently spreading as necessary.
Let cake cool to room temperature.
To make the frosting, beat together cream cheese and butter until combined.
Add powdered sugar and 1 tablespoon condensed milk. Beat together until well-combined.
Mix in additional condensed milk and vanilla to desired consistency.
Spread frosting over room temperature cake.
Enjoy at room temperature, or chill and enjoy cold.
Cover and chill any leftovers.