One Pan Pasta Recipe: Cheesy Bacon Chicken Rotini
Ratings & Reviews
---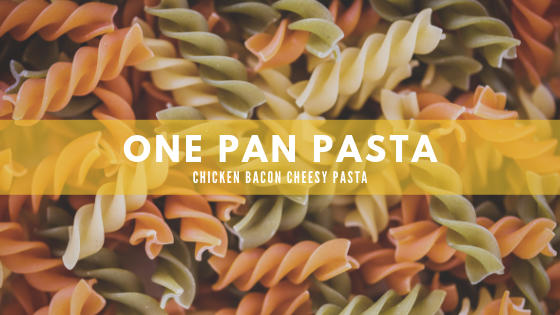 PREP TIME

COOKING TIME

Total Time

Hey bacon lovers!
If your taste buds crave the savoury and salty, you'll want to put this one pan pasta recipe on the menu next week.
Any recipe with bacon and cheese gets my attention, but this deliciously easy one is especially awesome because it is so versatile. For example, I've made this recipe with rotini noodles because they are my favourite, but you can make it with whatever noodles you happen to have in your cupboard.
Or maybe you're keto and carbs aren't an option for you?
Bacon, chicken, and cheese are three classic keto ingredients that have the protein and healthy fats you need at every meal. Just make these three quick swaps and you'll make this one pot pasta recipe keto-friendly:
Swap out the rotini for spaghetti squash or zuchini noodles (bye bye carbs!)
Switch out the olive oil for coconut oil
Amp up the protein by adding sausage, steak, or shrimp
Reduce the high-carb onion and garlic to half
Pack in some keto-friendly veggies like spinach, broccoli, or baby bella mushrooms
Use aged-cheddar and/or parmesean
Ready to cook? It only takes 25 minutes from prep to plate, so here we go!
Ingredients
1/2 pack of bacon (about 6 strips)
2 cooked chicken breasts, chopped
1/2 Cup Shredded Cheese (marble and mozarella are my favourites)
12 Ounces Crushed Tomatoes (I usually have a tin on hand, but fresh grape or cherry tomatos are a great option too)
2 Tablespoons Extra-Virgin Olive Oil (or coconut oil for keto)
2 Cups Yellow Onion, sliced
3 Cloves Garlic, Minced
12 Ounces Rotini (or your favourite noodle!)
4 1/2 Cups Water
Seasoning with:
1/2 Teaspoon Salt
1/2 Teaspoon Pepper
1/2 Teaspoon Ginger (for added kick! Or sriracha works too)
1 Teaspoon Basil (or 3-4 fresh leaves, set some aside for garnish)
1 Teaspoon Red Pepper Chili (flakes or paste)

Instructions
Dice and cook your bacon and chicken breasts over medium heat in a large skillet (make sure it's deep enough to hold all of your ingredients, straight-sided skillets are best for one pot pasta recipes.)


Once the bacon is crisp and chicken is cooked through, remove them from the pan and set them aside for later. Wipe the pan of grease or give it a rinse.


Add the oil, garlic, onion, and ginger to the pan; let it simmer until the garlic starts to brown.


Add water, tomatoes, pasta, salt, pepper, basil, and red pepper chili flakes (or paste).


Turn the heat to high and bring the mixture to a boil.


Boil and stir for approximately 7 minutes, or until most of the water is gone.


Lower heat back to a simmer and add the bacon, chicken, and cheese; stir for two minutes.


Remove from heat, divide into four bowls, and garnish with basil (and extra cheese if you love it as much as I do!)
Enjoy!
Not in the mood for pasta tonight?
Add these recipes to your weekday menu: