Free Charmin Roll Extender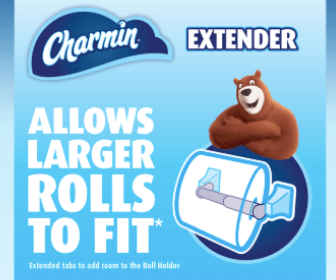 Share With Friends
Date: Apr 23rd, 2019
We've found a great free product online!
Is your tissue roll holder big enough to accommodate your toilet paper rolls?
Fear not - enjoy this new Charmin extender that allows larger rolls to fit perfectly in place.
This will hold even the biggest Charmin roll that holds up to your family's biggest messes.
Simply fill in your shipping and contact information to get yours!
Charmin is one of the country's most popular toilet paper brands.
After filling out your information, be sure to "confirm" it and submit to Charmin. Your freebie should arrive within 2-3 weeks.
Proctor and Gamble is Charmin's parent company and one of the world's leading makers of consumer goods. Products range from personal care, prescription drugs, laundry detergents, household cleaning, and more. Since 1837, the company has become a permanent part of American households.
Want more freebies? Check out our Free Samples Page.
If you love free stuff, why not try a hand at winning some prizes! Don't forget to check out our Exclusive Giveaway Prize Draws, you can use your ballots for your chance to win great stuff!
Good luck and enjoy!