Free Dog Adoption on November 26th
November 10, 2023, BY Liliana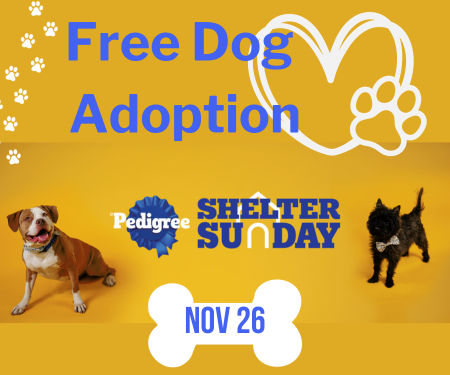 Give the Gift of Love: How to Score a Free Dog Adoption with PEDIGREE®
Hello, animal lovers! I've stumbled upon a heartwarming deal that's too good not to share. Imagine giving a furry friend a forever home without spending a dime. Now, before you think this is just another ad, let me guide you through this incredible deal and how you can make the most of it.
First things first, mark your calendar for Sunday, November 26th. It's a special day because the PEDIGREE® brand is stepping up to the plate to reimburse dog adoption fees nationwide.

In celebration of PEDIGREE Foundation's 15th birthday, they're giving back by helping dogs find loving homes.
Here's the scoop: When you adopt a dog from your local shelter or rescue organization on PEDIGREE® Shelter Sunday, PEDIGREE® will reimburse your adoption fee. It's a beautiful gesture to encourage more adoptions during the holiday season.
Now, let's talk logistics. There's a limit of one dog adoption fee redemption per household, so choose wisely. After adopting your new furry friend on November 26th, hold onto your adoption receipt. From November 28th to December 22nd, you can submit your receipt to PEDIGREE®, and they'll take care of the adoption fee.
It's that simple. No strings attached, just a heartfelt opportunity to give a loving home to a dog in need. For more details, check out the PEDIGREE® website.
In a season of giving, consider adding a four-legged friend to your family. Let's make Shelter Sunday a day to remember for both you and your new, tail-wagging family member.
Want more free stuff? Check out our Free Samples Page