Free Full-Sized NEOSTRATA® Glycolia Renewal Serum
November 7, 2023, BY Emma Craig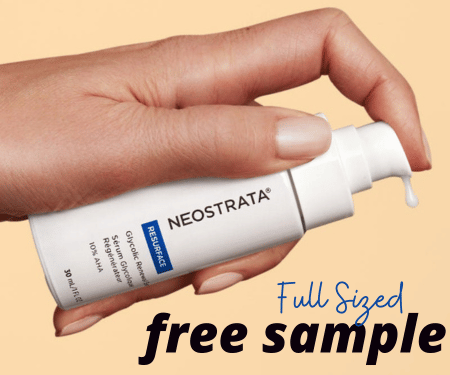 NEOSTRATA® Glycolia Renewal Serum: Revitalize Your Skin and Explore the Benefits
Hey radiant skin enthusiasts! ✨ Get ready for a game-changer because NEOSTRATA® is graciously offering a FREE full-size Glycolia Renewal Serum, and the glow-up is real! 🌟 Let's dive into the deets without the fluff—no ads here, just pure excitement about this incredible skincare gem.
The Power-Packed Formula: This serum doesn't mess around. With a high-potency AHA antioxidant blend boasting 10% Alpha Hydroxy Acid (AHA) and antioxidants, it's a dynamic duo designed to revitalize your skin's surface texture. That's right, a formula crafted to bring out your skin's natural radiance.
How It Works: Apply the serum, let it work its magic.

The AHA and antioxidants team up to renew the appearance of your skin, leaving you with a refreshed and revitalized glow. It's like a mini-spa day for your face, courtesy of NEOSTRATA®.
Now, here's the exciting part— they are giving away one full-size NEOSTRATA® Glycolia Renewal Serum (valued at $85) to the first 1,000 people who sign up with their email and mailing address. This isn't just a sample, it's the real deal!
Ready to embrace the glow? Don't miss out on this opportunity to elevate your skincare routine. Act fast, and let NEOSTRATA® be the secret behind your radiant transformation.
Want more free stuff? Check out our Free Samples Page
Cheers to glowing skin! 🌺💖