How to Score a Free Jean Paul Gaultier Le Male Elixir Fragrance Sample
We all love the idea of snagging a free sample, especially when it's a luxurious fragrance like Jean Paul Gaultier's Le Male Elixir. The good news is that you can possibly get your hands on a complimentary sample of this exquisite fragrance, and this blog post will show you how. So, let's dive into this exciting opportunity!
How to Get Your Free Jean Paul Gaultier Le Male Elixir Sample
Jean Paul Gaultier is offering this fabulous fragrance sample through sponsored ads on Facebook and Instagram. Here's how you can possibly receive it:
Spot the Sponsored Ad: To access the form for your free sample, you'll first need to spot the sponsored ad on either Facebook or Instagram. Keep an eye out for it as you scroll through your social media feeds.
Interact with Their Pages: Increase your chances of seeing the ad by following and liking Jean Paul Gaultier's pages on Facebook and Instagram if you haven't already.


This can help you fit their targeting criteria.
Engage with Recent Posts: Show your love for the brand by liking a bunch of their recent posts or even watching a video they've shared on their page. Your engagement can increase the likelihood of the sponsored post appearing in your feed.
Visit Their Website: To further improve your chances, pay a visit to Jean Paul Gaultier's website and explore the Le Male Elixir fragrance section. This demonstrates your interest in their products.
Here is how the ad looks: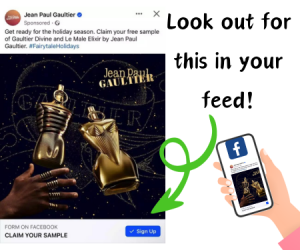 Snagging a free sample of the Jean Paul Gaultier Le Male Elixir fragrance is an exciting opportunity, but it's essential to remember that it's not us providing the sample. This blog post is all about helping you understand how you can possibly receive one for yourself. By following the steps outlined above, you increase your chances of spotting the sponsored ad and obtaining this luxurious fragrance sample. So, get ready to elevate your scent game and enjoy the essence of Jean Paul Gaultier's Le Male Elixir. Happy sampling!
Want more free stuff? Check out our Free Samples Page