Score Your Free Sample of L'Oréal Pure Vitamin C Serum
Hey there, beauty enthusiasts! I've got some fantastic news to share with you. L'Oréal Paris has just launched its latest sensation, the 12% Pure Vitamin C Serum, and they are giving away free samples. The best part? It's not me or my website offering these, and you can get your hands on them too! Here's how you can claim your free sample of L'Oréal Pure Vitamin C Serum.
Unlock the Magic of Vitamin C with a Free Sample:
This special offer is making waves as a sponsored post on Facebook and Instagram. For those of you residing in the United States, this is your golden opportunity to experience the wonders of Vitamin C up close and personal.
Steps to Make the Sponsored Post Appear in Your Feeds:
Visit L'Oréal's Official Pages: Start your journey by heading over to L'Oréal Paris's official pages on both Facebook and Instagram. Be sure to follow them and engage with their posts. Liking and commenting can go a long way in increasing your chances of seeing their sponsored post in your feed.
Engage with L'Oréal Paris: Boost your interaction with beauty and skincare brands, particularly L'Oréal Paris. Show some love by liking, commenting, and sharing their posts on Facebook and Instagram. This will send a signal to the algorithm that you're interested in beauty products.
Search for Relevant Keywords: Take advantage of the search bar on Facebook and Instagram. Look up keywords related to the L'Oréal Vitamin C Serum. This will help you discover content related to the product.
Update Ad Preferences: On Facebook, visit Settings -> Ads -> Ad Preferences. Here, tweak your preferences to see more beauty and skincare-related ads. By doing this, you're telling the platform that you want to see more content like L'Oréal's free sample offer.
How It Works:
By actively engaging with beauty products and brands, you're signaling to the algorithm that these topics interest you. As a result, the algorithm is more likely to show you relevant sponsored posts, such as L'Oréal's free sample offer, in your social media feeds.
For a glimpse of what you're looking for, check out the screenshot we've provided. It's your sneak peek into the kind of content you'll want to keep an eye out for.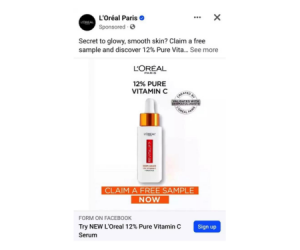 Don't miss out on this chance to try out the L'Oréal Pure Vitamin C Serum. With these simple steps, you can unlock the magic of Vitamin C and elevate your skincare routine. So, go ahead, follow, engage, and search for your way to that free sample. Your skin will thank you for it! 🍊