Free Minibon at Cinnabon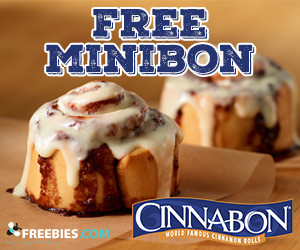 Share With Friends
Date: Apr 28th, 2018
We have found one delicious freebie!
Join Club Cinnabon and get a piece of the sweet life with a coupon for one FREE Cinnabon Minibon roll. Yum!
You'll also get the best deals, coupons, and offers from Cinnabon.
Simply fill in a few details and you will be able to access exclusive online offers and info, the latest news about products, flavors, sweepstakes opportunities, in-store offers, and more!
Cinnabon is dedicated to providing its guests with the comforting and delicious tradition of cinnamon buns. With classic recipes and innovative new products every day, its no wonder that Cinnabon is the number one choice for millions around the world.
Find Cinnabon locations near you here.
Be sure to share this offer with anyone you know who would enjoy this delicious freebie.
Please note that there may be an expiration date on your coupon based on the day you sign up for this offer.
Everything tastes better when it's free.