Free Skincare Sample Kit from Riversol
November 8, 2023, BY Liliana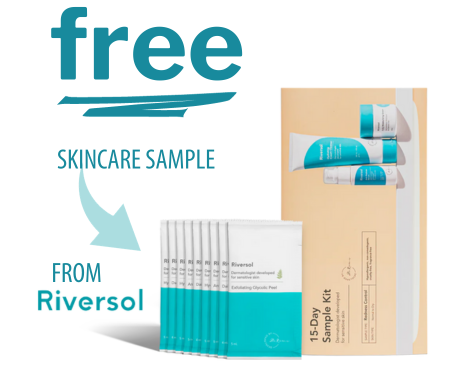 Unlock Your Radiant Skin: How to Get a Free Riversol Skincare Sample Kit
Are you ready to embark on a journey to healthier, more radiant skin without breaking the bank? If so, you're in luck! We've recently stumbled upon an amazing opportunity to get your hands on a free skincare sample kit from Riversol, designed to address redness-prone skin. In this blog post, we'll guide you through the simple steps to access this incredible offer and achieve the complexion you've always dreamed of.
What's the Deal with Riversol's Free Sample Kit?
Riversol, a trusted name in dermatologist-developed skincare, is offering a complimentary redness control sample kit to individuals looking to reduce facial redness, improve radiance, enhance texture, and provide deep rehydration. This isn't your typical run-of-the-mill promotion; it's a genuine opportunity to experience Riversol's quality products firsthand.
How to Get Your Free Sample Kit
Obtaining your free Riversol sample kit is a breeze.

All you need to do is fill out a quick form, and Riversol will send the sample straight to your mailbox. It's as simple as that! While you eagerly await your sample to arrive, Riversol will also send you a series of informative emails to help you prepare for your new redness-reducing skincare routine.
Dive into Your New Skincare Routine
Once your sample arrives, it's time to dive into your new calming skincare products. However, for the best results, be sure to follow the provided instructions. Riversol's skincare experts have carefully crafted these products to deliver outstanding benefits, and following their guidance is key to achieving the desired results.
We want to emphasize that we're not affiliated with Riversol in any way, and this isn't a promotional advertisement for their products. We're genuinely excited to share this fantastic opportunity with you because we believe that everyone deserves to experience the benefits of quality skin care. It's a no-strings-attached offer to help you achieve healthier, more radiant skin.
Riversol's free skincare sample kit is a fantastic opportunity to address redness-prone skin, improve radiance, and enhance your overall complexion. By following a simple process, you can get your hands on this sample kit and begin your journey towards healthier skin. We're thrilled to share this information with you and encourage you to take advantage of this amazing offer.
Don't miss out on the chance to revitalize your skin – get your free sample kit from Riversol today!
Want more free stuff? Check out our Free Samples Page