Free Small Dairy Queen Blizzard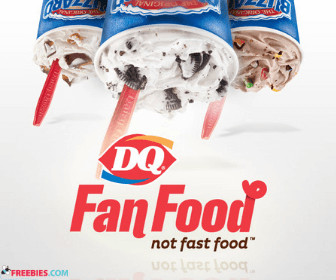 Share With Friends
Date: Nov 12th, 2018
I scream, you scream, we all scream for free ice cream!
What a sweet freebie just in time for all the new flavors!
Craving a sweet treat from Dairy Queen? When you download their mobile app you can score a free small Blizzard!
Download their mobile app for iOS and Android and get your sweet freebie when you register!
Once you register, you'll see the offer on the app. It's valid for a week once you've downloaded the app.
You'll also get exclusive updates and deals when you download the app.
Share this great offer with anyone you know who would love that would like a free blizzard.
The Blizzard is a classic ice cream dessert that combines ice cream and delicious toppings like cookie dough, Reese's, Oreo, and more.
Did you know you can also win CASH every single day thanks to our Daily Prize Draw?
If you love free stuff, why not try a hand at winning some prizes! Don't forget to check out our Members Only Prize Draws, you can use your points for your chance to win great stuff!
Good luck and enjoy!