Free Thanksgiving Meal From Operation Turkey
November 14, 2023, BY Liliana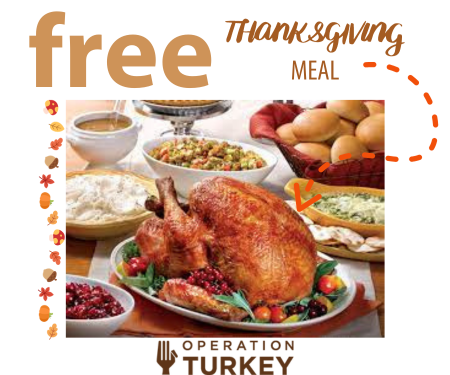 Give Thanks with Operation Turkey: How to Score Your Free Thanksgiving Meal!
Hello, generous hearts! As the season of gratitude approaches, I've stumbled upon something truly heartwarming that I can't wait to share. Operation Turkey is on a mission to spread Thanksgiving joy by giving away free meals, and you can be a part of it too. Let me guide you on how to score your free Thanksgiving feast without spending a dime.
Here's the lowdown on how you can participate:
Check Eligibility: Currently, Operation Turkey is serving up smiles in Florida and Texas. If you're in these areas, you're in luck!


Keep reading to discover how you can enjoy a delicious Thanksgiving meal on the house.
Visit Operation Turkey: Head to Operation Turkey's site to find the details for your region. It's a breeze to navigate, and you'll discover all the information you need to make your Thanksgiving a bit more special.
Mark Your Calendar: Thanksgiving Day is the big day! Operation Turkey will be dishing out free meals that include turkey, stuffing, veggies, pie, and a drink – a full Thanksgiving experience.
Remember, it's not about me or my website offering this free Thanksgiving meal; it's about spreading awareness of Operation Turkey's incredible initiative. If you or someone you know could use a helping hand this holiday season, don't hesitate to check out this heartwarming opportunity.
Thanksgiving is about gratitude and coming together, and Operation Turkey embodies that sentiment perfectly. So, are you ready to join in the celebration and savor the flavors of a hearty Thanksgiving meal? It's as simple as a visit to Operation Turkey – let's make this holiday season a little brighter for everyone.
Want more free stuff? Check out our Free Samples Page