Possible Free Lancôme La Vie Est Belle Perfume Sample
October 18, 2023, BY Emma Craig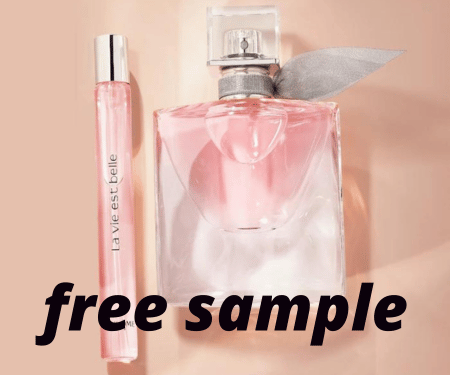 Unlock the Secret: How to Score a Free Lancôme La Vie Est Belle Fragrance Sample with Just a Few Clicks!
Ever wished to try out that luxurious Lancôme La Vie Est Belle Fragrance without spending a dime? Well, guess what? Your fragrance dreams are about to come true, and I've got the inside scoop on how you can get your hands on a Free Lancôme La Vie Est Belle Perfume Sample. Let's get straight to the steps!
1. Like/Follow "Lancôme" on Social Media: Lancôme believes in the power of community, and social media is where the magic happens.

Kickstart your journey by giving Lancôme a thumbs up or a follow on platforms like
Facebook
and
Instagram
.
2. Explore Lancôme's Website: Dive into the world of Lancôme by visiting their website. Get acquainted with their range of products, immerse yourself in the content, and let your interaction with their site speak volumes.
3. Dive into Lancôme's Social Media Content: Now, it's time to immerse yourself in Lancôme's social media universe. Check out their posts, photos, and videos—become a part of the Lancôme community online. Keep your eye out for perfume samples.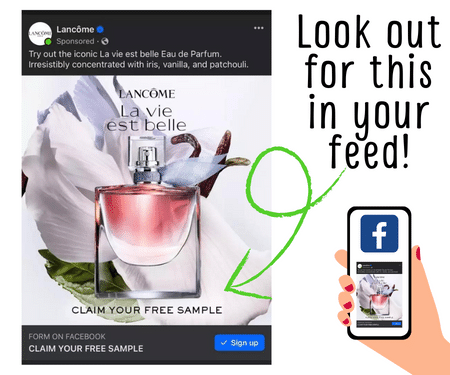 4. Refresh and Scroll Through Your Feed: Here comes the exciting part. Keep a keen eye on your Facebook feed for sponsored posts that resemble the one below. Follow the steps above, and voila! You're on your way to claiming your free Lancôme La Vie Est Belle Fragrance sample.
Want more free stuff? Check out our Free Samples Page
Remember, I'm not the one handing out these fabulous freebies, and it's not about my website—it's about you enjoying the perks. So, go ahead, follow the steps, and let the fragrance adventure begin!