Free Tampon Samples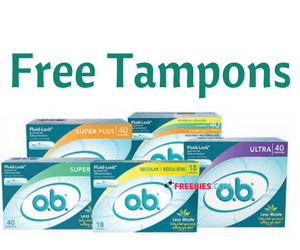 Share With Friends
Date: Jun 30th, 2018
Free tampon samples!
Hurry and claim these free samples while they are still available!
o.b. is giving out these free PRO COMFORT regular tampons for consumers to try. You won't want to miss out on this awesome free sample opportunity.
These o.b. PRO COMFORT tampons have Fluid-lock grooves, that provide you with locked-in leak protection, and have SilkTouch cover for comfort and protection.
o.b. brand tampons have no applicators, but o.b. says once you've tried it a few times it will feel completely natural and intuitive.
So try out these tampons with no applicators and see the difference it can make for you.
When you're trying out a new product, it's always better to try it out free to see how you like it.
This is a limited time promotion and these samples are sure to go quick. Sign up now to get your free sample.
This is just one of the many great free samples offers we find online and post here for our members. Keep checking the Free Samples page daily to see what amazing freebies we find next.
So, what are you waiting for? Sign up for a free sample pack of o.b. tampons!
Share this offer with any friends/family members who you know would benefit from this freebie.
This offer is only valid while supplies last, limit one free sample per household.