Vichy Neovadiol Meno 5 Serum Sample
September 28, 2023, BY Liliana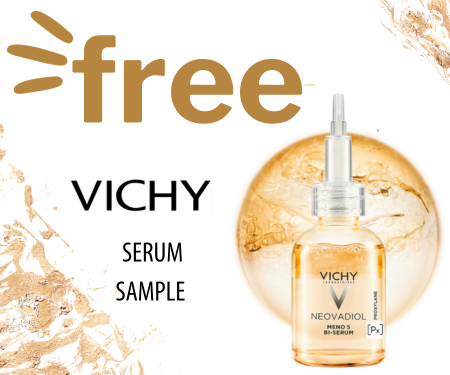 Unlocking Radiant Skin: How to Get a Free Sample of Vichy Neovadiol Meno 5 Serum
Are you in the peri or post-menopausal stage and looking to rejuvenate your skin? We've got some exciting news to share! You can now order a free sample of Vichy Neovadiol Meno 5 Serum, specially formulated to address the unique skincare needs of this life stage. In this article, we'll guide you through the process of obtaining your free sample and provide insights into the benefits of Neovadiol Meno 5 Serum.
Understanding Neovadiol Meno 5 Serum:
Before we dive into how to get your free sample, let's explore what makes Neovadiol Meno 5 Serum stand out:
Dermatological Ingredients: This serum is powered by dermatological ingredients, carefully selected to target common skin concerns during peri and post-menopause.
Multi-Benefit Formula: Neovadiol Meno 5 Serum is designed to improve the look of dark spots and wrinkles, visibly firm the skin, and boost radiance and hydration, helping you regain confidence in your skin's appearance.
How to Claim Your Free Sample:
Getting your hands on a sample of Neovadiol Meno 5 Serum is simple and hassle-free. Start by visiting the dedicated offer page for Neovadiol Meno 5 Serum.

On the offer page, you'll be asked to provide some basic information, such as your name and contact details. This information is essential to ensure the free sample reaches you. Once you've submitted your information, sit back and relax. Your free sample will be delivered to your doorstep, allowing you to experience the benefits of Neovadiol Meno 5 Serum firsthand.
This offer is available to residents of the 50 US states (excluding Puerto Rico) and the District of Columbia who are 21 years or older. It's important to note that the offer is available only while supplies last, so act promptly to secure your free sample.
Embrace this chance to revitalize your skin, boost your confidence, and embark on a journey to radiant, healthy-looking skin with Neovadiol Meno 5 Serum. Don't miss out, visit the offer page and take the first step towards a more vibrant you.
Want more free stuff? Check out our Free Samples Page