Win Home Appliance t + 1 Free Woman's Day Magazine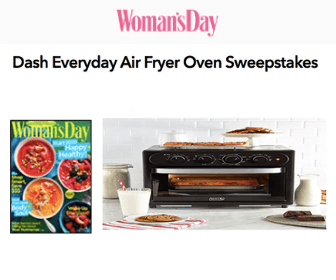 Share With Friends
Date: Jan 21st, 2020
Not only do you get a freebie, 1 free month's edition of Woman's Day magazine, you are also entered for the chance to win a free air fryer oven!
When you fill in your information, you will be sent a free issue of Woman's Day magazine.
Woman's Day magazine will send you a bill for a one-year subscription for $7.99 but you can mail the bill back marked "cancel" to keep the first issue and not be charged.
If you do not want the free issue and simply want to enter the sweepstakes, click on the link above the registration form, under the link for the "Official Rules".
This contest is not open to residents of QC. The contest ends on March 14th.
Want more free stuff? Check out our Free Samples Page.
Don't forget about these other offers we found: