5 Tips to Fighting Eye Wrinkles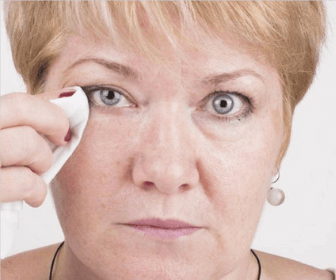 We've found these 5 tips to fighting eye wrinkles are both easy and highly effective.
As hard as we may try to fight them, wrinkles are an inevitable sign of ageing. Plus, it is never too early to fight the signs of ageing. A great skincare regiment can do a lot to fight the signs of ageing.
We've found 5 quick tricks to help reduce and prevent wrinkles to give you a youthful appearance for as long as possible.
1.Cool Down In The Morning
The cold tightens the pores of the skin and reduces the sagging down and swelling of the skin around the eyes. The easiest way is to keep two spoons in the fridge in a bag to put them on your eyes for one or two minutes in the morning thinking about the wonderful day that awaits you.
2. Use an Eye Cream
This is a little investment, but trust us - it's worth your money. Use a cream that is specifically designed to treat the skin around your eyes. Eye creams are specially formulated to target the different skin around the eye area and are the most products to treat those wrinkles. There are products from high-end and affordable brands.
Bonus: We often find Free Beauty Samples for anti-ageing products, check the Free Samples page to find any samples.
3. Apply An Aloe Compress Once A Week
Start your Saturday or Sunday morning with a beauty break. On a piece of cotton fabric (a napkin will do the trick) spread a generous layer of aloe gel, fold into a small rectangle and put in the fridge in a sandwich style bag for reuse until 20 times. Just go out and go back to bed for 10 minutes while viewing the wonderful day ahead
4. Massage Your Neck
Everything that goes to the brain and the eyes passes through the neck. A small neck massage from the bottom to the middle of the morning or afternoon (or both) will help your concentration, your creativity and especially the blood circulation around the eyes.
5. Start Your Day With Water
This advice is especially important to follow every day if you suffer from dark circles or bags under the eyes. During the night the reduced circulation allows accumulation of liquid in the adrenal glands. With age, the work of elimination that occurs naturally when waking up in children needs a little help. Water will activate your digestive system and eliminate oral bacteria. Moreover, it is better to drink one of your glasses of water before brushing your teeth, because oral bacteria are good for the microbiota.
Do you have any other great skincare tips? Let us know in the comments below!
More Life Hacks
If you liked this post, be sure to check out these other life hacks and tips on our blog: