6 Fun Family Activities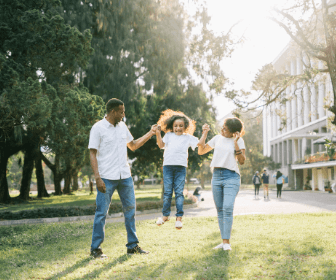 Spending time with your family does not need to be expensive, these 6 fun family activities are free, if not very cheap, and very enjoyable.
Many family activities can get so expensive, especially when you factor in the costs for 4 to 6 people. We've compiled a list of our favourite family activities. Many of these are free, and the ones that cost money are relatively inexpensive.
They say the best things in life are free, and we agree!
Go Outside
Spend time outside as a family! You can go for a hike or walk through your local trails, go for bike rides, go to a local park, and play popular backyard games like lawn darts, bocce ball, badminton, catch soccer, and more.
Outdoor games like lawn darts and badminton are relatively cheap, and balls for soccer and catch can also be easily found. Hitting up a local trail or walking path is a great free activity.
Not only will these family-oriented activities be fun, but they'll also get your family outside and active.
Cook Together
We eat together, why not cook together as well?
Cooking as a family is another fun and engaging family activity. Getting your children involved in cooking meals will be fun and social, but you'll also be teaching them valuable cooking tips that will help them later in life. Brunch anyone?
Have a Movie Night
Why pay to go to an overpriced movie theatre when you can have a cozy (and free!) movie night at home. Pop some popcorn, grab your favourite snacks, and stream whatever film you want thanks to the web!
Get Artistic
Crafts anyone? Whether your children are younger (and more interested in macaroni art) or older, arts and crafts are fun at any age.
Make it a fun activity for older kids by grabbing some cheap canvases and paint at local art or craft supply shops. A fun idea is to find an image for all of you to paint and try your best to match up to the original.
Read Together
Most of us know the importance of reading to our children, but if often stops when they are young.
Reading together is a fun way to decompress after a long day and stimulate your mind. You can find an age-appropriate book series for your family to enjoy read a chapter (or two!) every night.
You can grab books from your local library, making this a fun free activity.
Have a Game Night
This one is a classic for a reason because nothing really beats a family game night. From classics like Yahtzee and Monopoly to Clue and Sorry!, board games are fun for all ages. If you don't want to shell out the cash for a board game, come up with your own fun family trivia game and create your own questions and craft your own board!
Tip: this classic fun activity is great for when the kids get a bit stir crazy on a rainy day.
Do you have any other great family activities? Let us know in the comments below!
More Life Hacks & Money-Saving Tips
If you liked this article, check out these other blog posts and offers: