The 3 Best Indoor Plants for Healing and Prosperity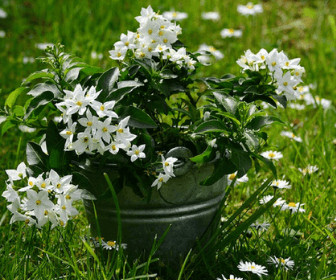 Do you believe in the healing power of plants? Are you interested in new ways to bring prosperity and luck into your home?
We've found the 3 best indoor plants to bring prosperity into your life that will also purify the air in your home. These plants are recognized in mythology and in Chinese medicine for their ability to attract prosperity to the homes they're found in.
The best part? These plants are relatively easy to grow and maintain, plus they can grow indoors and outdoors. You can keep them inside throughout the fall and winter and you can keep them outside during late spring and summer. Each of these 3 plants is recognized for its ability to purify the air in a home.
To keep these plants outside during summer, be sure to put them in a shady spot where they'll get a good flow or air without too much wind. After a week, you can place them in a spot with more direct sunlight. If you don't have a shady corner or spot to keep them, start by taking them out into the sunlight for a few hours a day so that they can get used to direct sunlight.
Peace Lily
This super plant blooms in the sunlight or in the shade.
Peace lilies are recognized for improving the prosperity (and even the health) of the home's inhabitants. This plant is recognized for improving the lives of asthma sufferers, improving headaches, and even more.
Jade Tree
The jade tree is the most popular plant for attracting riches and prosperity. You'll often find this beloved plant in Asian restaurants.
This tree is also commonly known as the tree of friendship or luck. Its branches symbolize the force, health, and fruitfulness of a family.
Once you learn how to properly water this tree, it's a very easy plant to maintain. It is crucial that you let the soil dry out between two waterings and never let water stagnate in the saucer.
Jasmine
The jasmine plant's flower is commonly associated with love. This flower also symbolizes beauty and sensuality, as well as luck and prosperity.
When you find yourself in periods of stress, breathe in the beautiful scent of your jasmine plant to encourage calmness, serenity, and love.
This is an easy plant to maintain, as it requires little care and purifies the air of an entire room.
When kept inside, water your jasmine plant regularly but not excessively, leaving the soil to dry between watering. Be sure to keep the water well-drained, because the plant cannot tolerate excess humidity.
When the plant is kept outside, it needs to be watered more frequently. When the plant is outside, there is no harm in keeping the earth moist (but not in stagnant water).
More Life Hacks For Home
If you like this post, be sure to check out these other offers and posts on the site: