Candles To Keep Bugs Away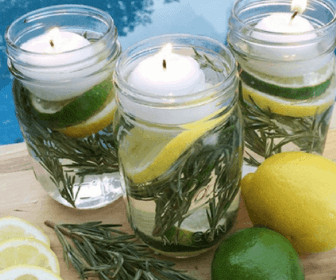 What's the best part of these candles to keep bugs away? They're a fun DIY craft and will keep the creepy crawlies away.
While we love to enjoy the warm summer weather, bugs and insects are a consistent summertime pest. Traditional bug spray and citronella candles are one way to keep pesky bugs away.
We've previously posted great tips on natural mosquito repellent, how to get rid of fruit flies, and how to get rid of wasps.
We've also found a great homemade candle to keep pests away. These candles are fun to make, pretty look at, and most importantly effective.
These candles use rosemary and citrus, that both add a touch of color to the liquid and prevent oils from evaporating too quickly.
So get some friends and family together to make this fun craft, and enjoy some outdoor bug-free relaxation.
What You Need
4 jars

40 drops each (10 drops per pot) - essential oils of cedar, lavender, lemon and "thieves" (a combination of essential oil of cinnamon, clove, lemon, eucalyptus, and rosemary, that you can find on the market or do it yourself). You can also use your own combination of oils for indoors or holidays, but these are considered good for the outdoors.

1 fresh lemon cut into 4 slices

1 fresh lime cut in 4 slices

4 sprigs of fresh rosemary

Water

Floating candles
Assembly
Fill each jar 3/4 full with water

Add the essential oils of your choice - 10 drops per jar - and swirl slightly

Place a sprig of rosemary in each pot

Place a slice of lemon and lime in each pot

Add water if necessary to raise the level to almost full

Place a floating candle on top

Light and see the mosquitoes and other bugs fly away

Replace the candles as needed
Other Tips
Once the candles are off, put the lid back on and keep the jars in the fridge and take out if necessary.
Caution: Make sure no one ingests the mixture in the jar, and never leave the candles unattended or within reach of young children. As with all candles, be sure to blow them out when you're done using them.
This article was originally posted on Gratuit.
Be sure to share this fun DIY activity with anyone who would love it!
Other Life Hacks For Home
If you enjoyed this post, be sure to check out these other tips: