How Salt Makes You Gain Weight & Ages Your Skin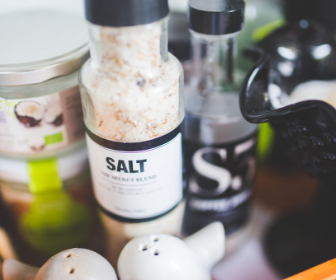 We always try to live as healthy of lives as we possibly can, but with all the advice out there it gets harder and harder to do. Did you know that high consumption of salt can cause you to gain weight and age quickly?
You may already know that overconsumption of salt is bad for health at many levels, but did you know that overconsumption of salt makes you gain weight? Even worse, salt causes the skin to age prematurely!
After reading this article, you'll understand the value in reducing your salt intake.
How Salt Works In The Body
First, here's how salt works on your body: salt is used to regulate body fluids.
The kidneys regulate salt in the body. If the kidneys fail to remove the salt, the blood does, but at the cost of increased blood pressure which reduces the ability of the kidneys to do their job and so the infernal cycle is triggered, the arteries harden, etc.
And what does all that have to do with weight? Water retention prevents the elimination of fat! The hardening of the arteries prevents the elimination of fat!
So, reducing your salt intake helps reduce the accumulation of fat in the body.
Salt does not only cause the retention of water, but it also loses the elasticity of the tissues which aggravates the appearance of cellulite and accelerates the ageing of the skin. Another very good reason to monitor your salt intake.
How To Reduce Your Salt Intake
It may seem like reducing salt intake and changing your diet could be complicated. We've found some steps that will actually make reducing salt in your everyday diet quite simple.
The following measures can help reduce your sodium intake:
Avoid salting your food. Use other ingredients to add flavor (eg pepper, salt-free spices, herbs, lemon juice).
Eat more often at home, and less takeout or restaurant meals.
Consume mostly fresh foods and less processed, prepared or prepackaged foods.
Rinse canned foods with water before eating (eg vegetables, chickpeas or lentils).
Opt for foods that are labelled "sodium-free," "reduced sodium," "low sodium," or "no added salt."
Source: Jean Coutu
Reducing your sodium intake is an easy way to improve your health and your skin.
If you're looking for some recipe inspiration, be sure to check out all our Family Recipes. We have recipes for desserts, appetizers, dinners, and more.
Do you know any other easy ways to eat better? Share them with us in the comments below.
More Life Hacks For Home
If you liked this offer, be sure to check out these other great life hacks: