How To Get Rid of Wasps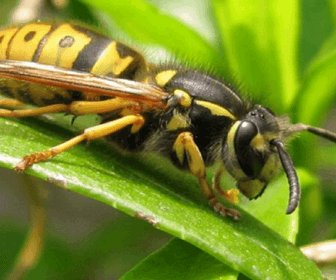 We don't know about you, but we find the end of the summer is the worst time for wasps. That's why we're always looking for how to get rid of wasps. These tips will help!
Wasps are useful in many ways, they capture harmful insects, such as flies and caterpillars. They are a source of food for small mammals, birds, and spiders.
Unlike bees, wasps can sting more than once. They also damage ripe fruits when they feed on their flesh.
What To Do If You Are Stung
The wasp is the most menacing of the stinging insects.
If a wasp lands on you, stay calm and wait for it to fly or gently brush it off the back of your hand. The wasp will likely leave without stinging you.
The pain caused by wasp stings can be relieved with ice or a paste made with baking soda and water. If the reactions to the bite are worrying, you should consult a doctor without delay.
You can use a local antihistamine cream if you have a very mild allergic reaction with slight redness and swelling.
Prevention
To prevent wasps from becoming a problem, go around your property and home early in the summer looking for wasp nests under construction. It's easier to keep a queen from nesting too close to the house in the early summer than trying to get rid of a big nest later in the season.
Physical Interventions
Because wasps look for protein-rich foods, such as insects to feed their larvae, avoid exposing wet pet foods or leftovers outside.
As wasps are also fond of sweet foods and strong smells, cover food and drinks when eating outdoors. The use of products that emit an odor such as perfume or hairspray is not recommended.
Waste must be put in containers with airtight lids until they can be thrown away.
Avoid walking barefoot on lawns or other grassy areas, especially at the end of summer, when wasps are more numerous and very active.
Wasp Traps
Different models of traps are can be sold in garden centers and department stores. Adding a food bait on a trap increases its effectiveness. To avoid catching bees, use protein foods such as dog food rather than sugary foods.
Be aware that baited traps may increase the circulation of wasps, as they are drawn to the bait. They should not be placed near playgrounds or other high-traffic areas. Traps are especially useful for keeping wasps away from food places during outdoor events.
To keep wasps away from your table, use this tip known used by restaurants on their patios. Place small plates with freshly crushed cloves on and under your dining table.
Removing a Nest
Above all, wear appropriate clothing and cover your head with a protective net.
If the nest's location is placing no risk on anyone's health or well-being, it's best to leave the nest alone until November or December once the wasps will have vacated. Once deserted by its occupants, it will then be possible to remove it and get rid of it by running a few risks.
The removal of an occupied nest is a very risky operation. It must be done in the evening when the wasps are less active. You have to be extremely careful to avoid being attacked by a lot of wasps. Although it is possible to carry out this operation without too much difficulty by taking the necessary precautions, it is recommended to call in a professional.
Depending on the location and the structure of the nest, it is sometimes possible to cover it with a plastic bag and cut the peduncle that connects to the tree branch or other support. To kill wasps, simply put the bag and its contents in the freezer for at least 48 hours.
More Tips to Keep Wasps Away
Essential oils
Incense sticks
Coffee
The false nest
Essential Oils
The concentrated odor of the biochemical molecules of some essential oils such as lavender and geranium acts as a repellent for many insects, including wasps. We can, therefore, enjoy the benefits of these oils, by pouring a few drops in a container that is placed in the center of the table.
Incense Sticks
To avoid inviting the wasps to come to our plates, we camouflage the sweet smells that are served by lighting sticks of incense that are deposited here and there near the dining area. Wasps, who hate strong odors, will avoid approaching.
Coffee
Unlike many humans, wasps do not enjoy the smell of coffee. Burn some ground coffee in a container that is placed on the garden table. The coffee burns by incandescence, without producing a flame, but gives off a smoke which makes the wasps flee. This operation is quite effective, but as it is ephemeral, it is necessary to repeat it regularly.
The False Nest
There are very realistic fake wasp nests on the market. These have a deterrent effect on territorial wasps since it is very rare to see two nests in the same area. Thus, the wasps will not want to build nets next to another group. However, this method does not work with all kinds of wasps, since the nests are different from one species to another.
Source: Health Canada
More Life Hacks For Home
If you like this post, check out these other life hacks on the site: