Window Insulation Hack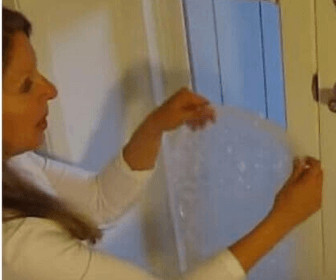 Whether you like it or not, colder winter weather is here.
Hate the cold? Having trouble keeping the cold weather outside?
Make your home extra cozy and keep the cold weather out with this great super easy insulation hack! There are plenty of tricks to keeping your home warm, and your energy bill down, but this is one is so easy and actually works!
This life hack comes from YouTuber Alaska Granny.
All you need for this easy trick is bubble wrap and a spray bottle full of water. Seriously, it's that easy.
Directions:
Cut a piece of bubble wrap the same size as the window you want to insulate.
Use the spray bottle to spray water on the window and on the bubbly side of the bubble wrap.
Stick the bubble wrap to the window with the bubbly side facing the window, and the smooth side facing inward towards your home.
Remove the bubble wrap when you are ready.
According to the Alaska Granny, the bubble wrap will stay stuck to the window for as long as you want.
Watch the video for yourself to see this trick in action!
Check out another great tip we posted to defrost your windshield in no time!
More Like This
If you like this post, check out these other great offers and life hacks: