The Best Birthday Freebies For Canadians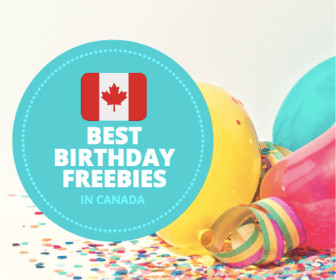 What can make a birthday even better? Birthday freebies!
Here at Freebies.com we love a celebration. That's why we are always searching for the best free samples, coupons, discounts, and contests.
There is one thing we love more than a celebration - and that's finding how to get free samples into the hands of our members!
Did you know that the top brands out there give away special offers for birthdays?
When you sign up for emails and/or loyalty programs with major brands and stores, you'll get a free gift to help you celebrate your special day.
From chain restaurants to major retail stores, so many major brands offer major freebies to their customers.
To help you celebrate your special day in the very best way, we've created this list of the very best birthday freebies.
Share this list with a friend so they can also enjoy these offers on their day!
Best freebies:
Sephora

Starbucks

Red Lobster

Marble Slab

Dairy Queen

Harvey's
Sephora
When you sign up to be a Sephora Beauty Insider, you'll get a free gift of minis on your birthday month. Joining is easy and free, and you'll earn points you can redeem for products throughout the year!
Once you've signed up, all you need to do is go to a Sephora store and get your free birthday surprise! The best part of this offer is that you don't need to go on your actual birth date, you just need to go during your birthday month. For example: if you have a January birthday, go to your closest Sephora locations to redeem from any day from January 1st-31st.
Tip: Go at the beginning of the month to make sure all the month's samples are in stock.
So sign up and get that free birthday makeup.
Starbucks
Starbucks gives out complimentary drinks/food to Starbucks Rewards members on their birthdays! Celebrate your special day with a delicious free beverage or food item. With locations in towns and cities across Canada, you won't have to go far to get this treat.
To get this great offer, you'll need to register with Starbucks. You can either register a card in-store or register online and download the app.
Important: To qualify for this offer, you must join 30 days before your birthday. Starbucks will send you an offer 30 days before your birthday to remind you of your reward. You'll also get a 15% off discount at StarbucksStore.com.
So start your celebrations off with this awesome offer.
Red Lobster
Searching for what restaurants offer free birthday meals? The search is over.
When you sign up for the Red Lobster Fresh Catch News email program you'll get free food on your birthday.
The details of the free food you'll receive are not specific, but seafood and/or a delicious dessert are a safe guess.
Plus, you'll get a free appetizer or dessert right away when you first sign up! Enjoy some free food now and then again on your special day.
Important: You must sign up at least 7 days before your birthday to get the coupon.
Marble Slab
Marble Slab offers a delicious birthday surprise for their Marble Mail email members.
All you need to get this delicious offer is sign up for the Marble Mail newsletter. Joining is easy and comes with other fun benefits.
You'll also enjoy special offers, coupons, promotions, and be the latest to know about Marble Slab news and events.
Important: You must register at least 48 hours before your birthday to get the special birthday surprise email.
Dairy Queen
Marble Slab isn't the only ice cream shoppe offering free birthday ice cream!
Sign up for the Dairy Queen Blizzard Fan Club and enjoy a free frozen treat on your birthday.
Bonus, you'll also automatically get a coupon for BOGO free Blizzard when you join the club. Now that is one sweet deal!
Harvey's
Do you love Harvey's burgers? Sign up for the Harvey's email newsletter and get a free burger on your birthday!
The best part? You'll also get a coupon for a free pack of frings as a thank you for signing up. What are frings? They are a delicious mix of Harvey's fries and famous onion rings.
More Free Sample Offers
If you like this post, be sure to check out these other great ways to get free samples: