Rakuten Canada: Get Paid To Shop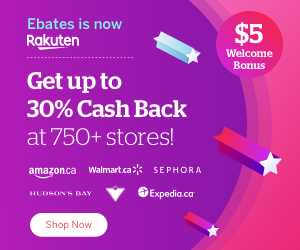 Have you heard the news? Ebates.ca is now Rakuten!
Rakuten Canada is now your go-to shopping destination where you can get paid to shop. It may sound too good to be true, but it's not. Rakuten will actually give you cash back bonuses on every single purchase you make through the site.
In this post, we do a deep dive into how Rakuten works, how you can sign up, and how you can get your cash back bonuses!
How Rakuten Works
If you're an existing Ebates member, you already know how this works. The good news, nothing has changed for existing members other than the name. You can keep shopping and earning cashback like you already were.
If you're new to this, this is the section for you!
Rakuten is an online retailer that is partnered with so many of Canada's top stores. When you shop online through an Ebates partner, you'll get a cashback bonus once the partner confirms your order.
There are over 750 partner stores available on Rakuten, and the partner stores offer up to 30% cash back bonuses.
Rakuten Partner Stores
Rakuten is partnered with some of Canada's top retailers, including:
Sephora

Hudson Bay

Amazon.ca

Walmart

Best Buy

Well.ca

Clinique

Indigo

And so many more
How Do I Find More Stores?
It's super easy to find all the partner stores. Click the dropdown All Stores menu option to browse all the categories of stores. You can also click the "See All Stores" option under the tab.
If you prefer, you can also type a store name in the search bar and see the store you're searching for is listed.
Is Rakuten Free?
When I first heard about it, I wondered, "Is this free?". Rakuten is 100% free for members to use. The stores pay a small commission to Rakuten, and they can then pass that cash onto members!
How Do I Sign Up?
It's super easy to sign up for Rakuten. Just sign up here using your email or signup using your Facebook information.
New members will get a free $5 bonus to start shopping when they sign up and create your account.
How Do I Get Cashback?
There are 2 ways you can get cashback:
A cheque in the mail

Through PayPal
Rakuten pays out cashback quarterly. So, you'll be eligible for cashback bonuses four times per year.
It's important to note that you must have a cashback balance of over $5.01 to get a payment. If your balance is under $5.01 you'll get your bonus on the next billing cycle once you've reached this amount.
Weekly Hot Deals
Every Tuesday, Rakuten posts their list of Weekly Hot Deals. This list includes new deals, promotions, and bonuses from selected partners. Often, these partner stores will offer double cash back, if not more!
More Money-Saving Tips
If you like this post, be sure to check out these other great money-saving tips: