Should children be allowed to wear nail polish?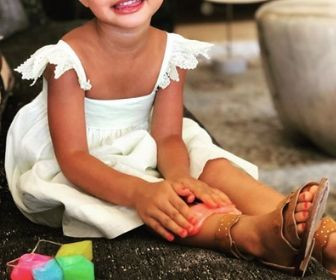 Despite her cleaver and hilarious responses to previous mom-shaming comments, Chrissy Teigen is yet again at the center of another heated parenting debate.
What is the hub-ub about this time? Nail polish on her daughter Luna's toes.
The model, cookbook author and mom of two recently took to Twitter to let her followers in on a special moment between her and Luna.
"Doing her nails is my knitting. Kid toes kill me!" Teigen wrote in the tweet, accompanied by a video showing the toddler's toes painted red.
Think it's ok, or say stay away from nail polish? Let us know!
Vote in the poll and let us know your thoughts in the comments below!
Hurry, you only have 72 hours from the time this question is posted to receive your ballot!
Source: Shared