Poll: Trump poses with baby orphaned in El Paso shooting. Is it appropriate?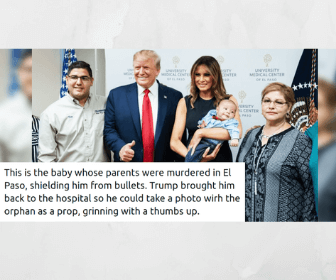 President Trump recently posed doing a "thumbs up" sign with the baby orphaned in the El Paso, Texas shooting. Both of the baby's parents died shielding him from gunfire.
This photo op happened after 8 other shooting victims in the hospital allegedly refused to meet with the President and First Lady.
Some think the President's pose and smile are completely inappropriate considering this baby was orphaned in the shooting. Do you think this photo op is appropriate?
Source: Shared