Poll: Yay or Nay to Denim Speedos?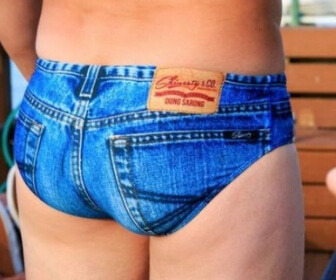 Welcome to 2019 where denim fashion trends are absolutely out of control.
Ok ok, these aren't actually made of denim. The jeados are actually polyester and spandex, because denim doesn't seem like it would be fun to swim in, but they are styled to look like denim.
Would you rock a pair of these, or stay far - far away?
Hurry, you only have 72 hours from the time this question is posted to receive your ballot!
Source: Shared