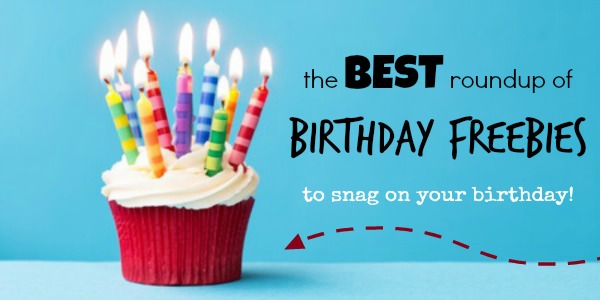 Share With Friends
Here at Freebies.com we love a celebration. That's why we are always searching for the best free samples, coupons, discounts, and prize draws for all holidays and events from Christmas to Thanksgiving and everything in between!
There is one thing we love more than a celebration - and that's finding how to get free samples into the hands of our members!
Did you know that the top brands out there give away special offers for birthdays?
When you sign up for emails and/or loyalty programs with major brands and stores, you'll get a free gift to help you celebrate your special day.
From chain restaurants to major retail stores, so many major brands offer major freebies to their customers.
To help you celebrate your special day in the very best way, we've created this list of the very best birthday freebies.
This list contains our personal Top 5 ranking of the offers available in Australia.
Share this list with a friend so they can also enjoy these offers on their day!
Enjoy!
Krispy Kreme Donuts
Join Krispy Kreme's Inner Circle Club and you'll be rewarded with 4 original glazed donuts! Joining is easy - all you have to do is sign up for their newsletter and you'll start receiving all of their great rewards.
You'll also receive a free $10 voucher and other discounts as an Inner Circle member. Once it's your birthday, you'll receive your voucher for 4 free original glazed donuts right to your inbox.
You can get your free donuts for 7 days once you receive it. Make sure you sign up now though, your voucher will only be valid if you've been an Inner Circle Member for at least 4 weeks.
Become a member now and get your free birthday donuts!
Red Rooster
Looking for a free meal? Head to Red Rooster!
Join Red Rooster's Red Royalty Program to get lots of free stuff. Download the Red Royalty app today to start earning rewards - you'll even get a $5 voucher just for registering.
Once it's your birthday, Red Rooster will send you a voucher for a free meal! You can use this voucher up to 30 days after your big day, so no rush.
The rewards don't stop here, either. With every purchase you make, you'll earn points that can be traded for a delicious Red Rooster meal.
Download the Red Royalty app in the App Store or Google Play store today to start earning rewards.
Boost Juice Bar
Enjoy this free birthday drink from Boost Juice Bar!
To get your free birthday drink, you'll need to join their Vibe Club. You can either download the app from the App Store or Google Play Store, or register for a card online or instore.
As a member, you'll be the first to know about the latest discounts and freebies. You'll also earn points! Once you have 10 points, you can trade them in for free stuff.
Make sure you turn on your push notifications, too! Boost Juice always has fun games and challenges within their app that can earn you free drinks.
Sometimes you even have to balance fruit on your head once you're in the store to get a free drink!
Join the Vibe Club today and claim your free birthday drink!
Subway Sandwiches
Eat Fresh! Join Subway's Eat Fresh Club for free lunch!
Members get first access to special news and rewards, so why wouldn't you want to join? Not to mention the reward of a delicious Subway sandwich lunch on your birthday.
You free lunch will include 1 6-inch sub and a 600ml drink of your choosing. Plus, you'll be able to use this voucher for up to 3 days after your birthday.
Make your sandwich just the way you like it. Once you've selected your freshly baked bread, choose from their fresh vegetables and toppings.
Join the Eat Fresh Club now and celebrate with Subway.
Baskin Robbins
Time for another sweet treat! Become a member of Baskin Robbins' Club 31 and you'll get free birthday ice cream!
You won't just get a free scoop of ice cream, either. You'll also get a voucher to save money off of one of their delicious ice cream birthday cakes.
You'll even get a Buy 1, Get 1 Free scoop as soon as you join Club 31!
Enjoy your favourite ice cream flavour on your birthday this year. Maybe you like the classics like chocolate or vanilla. Or maybe you like to get a little more adventurous with candy carnivale sorbet or caramel praline cheesecake!
Baskin Robbins has created over 1,000 ice cream flavours, so there is sure to be one that you love.
Join Club 31 today to get your free birthday ice cream!
Freebies.com
There's no doubt about it, free stuff just makes a birthday better.
That's why we now give our members +1000 bonus points to celebrate their birthdays!
Looking for more points? Check out easy and fun ways to earn points on Freebies.com.
Enjoy this bonus and use it to enter to win prizes on our site.
Only site members can win our exclusive prizes, so if you're not yet a member, sign up for your free membership and be a part of the club!
Since your only birthday only comes once a year, feel like everyday is a celebration by checking Freebies.com daily! We are always searching the web for the best freebies, coupons, discounts, giveaways, and prize draws and posting those offers here for our members to enjoy.
Be sure to share this list with your friends so they can take advantage of these great offers!
Click
Share With Friends