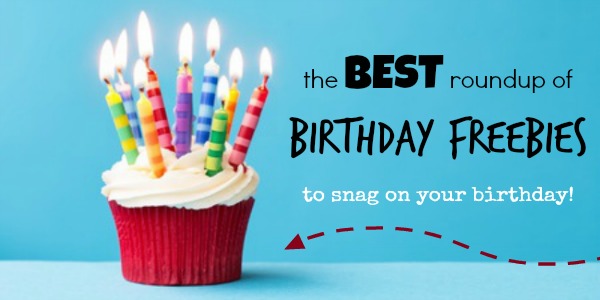 Share With Friends
Here at Freebies.com we love a celebration. That's why we are always searching for the best free samples, coupons, discounts, and prize draws for all holidays and events from Christmas to Thanksgiving and everything in between!
There is one thing we love more than a celebration - and that's finding how to get free samples into the hands of our members!
Did you know that the top brands out there give away special offers for birthdays?
When you sign up for emails and/or loyalty programs with major brands and stores, you'll get a free gift to help you celebrate your special day.
From chain restaurants to major retail stores, so many major brands offer major freebies to their customers.
To help you celebrate your special day in the very best way, we've created this list of the very best birthday freebies.
This list contains our personal Top 5 ranking of the offers available in Canada.
Share this list with a friend so they can also enjoy these offers on their day!
Enjoy!
Sephora
When you sign up to be a Sephora Beauty Insider, you'll get a free gift of minis on your birthday month. Joining is easy and free, and you'll earn points you can redeem for products throughout the year!
Once you've signed up, all you need to do is go to a Sephora store and get your free birthday surprise! The best part of this offer is you don't need to go on actual birth date, you just need to go during your birthday month. For example: if you have a January birthday, go to your closest Sephora locations to redeem from any day from January 1st-31st.
This free gift will include multiple free beauty samples, and often includes lipstick, mascara, highlighter, haircare, and skincare samples. This is a great offer for all beauty lovers that you can redeem year after year.
The 2018 gift has 3 different options: Choose from a Glamglow illuminating kit, a Bite lipstick sampler pack, and a Bumble and Bumble Invisible Shampoo and Conditioner sampler.
Tip: Go at the beginning of the month to make sure all 3 are in stock.
So sign up and get that free birthday makeup.
Starbucks
Are you wondering "How can I find free birthday stuff near me?"? Look no further!
Starbucks gives out complimentary drinks/food to Starbucks Rewards members on their birthdays! Celebrate your special day with a delicious free beverage or food item. With locations in towns and cities across Canada, you won't have to go far to get this treat.
To get this great offer, you'll need to register with Starbucks. You can either register a card in-store or register online and download the app. As a Rewards member, you'll enjoy special offers and promotions AND a free drink or treat for every 125 stars (points) you earn.
Important: To qualify for this offer, you must join 30 days before your birthday. Starbucks will send you an offer 30 days before your birthday to remind you of your reward. You'll also get a 15% off discount at StarbucksStore.com.
So start your celebrations off with this awesome offer.
Red Lobster
Searching for what restaurants offer free birthday meals? The search is over.
When you sign up for the Red Lobster Fresh Catch News email program you'll get free food on your birthday.
The details of the free food you'll receive are not specific, but seafood and/or a delicious dessert are a safe guess.
What tasty free birthday treat!
Plus, you'll get a free appetizer or dessert right away when you first sign up! Enjoy some free food now and then again on your special day. Plus, Fresh Catch News recipients enjoy special savings and offes.
Important: You must sign up at least 7 days before your birthday to get the coupon.
Yum!
Marble Slab
Marble Slab offers a delicious birthday surprise for their Marble Mail email members.
All you need to get this delicious offer is sign up for the Marble Mail newsletter. Joining is easy and comes with other fun benefits.
You'll also enjoy special offers, coupons, promotions, and be the latest to know about Marble Slab news and events.
Marble Slab is a chain of ice cream shops that lets you customize your ice cream order just the way you like it. Choose from their delicious flavours and add any toppings you want. Their delicious toppings include cookie dough, peanut butter chunks, sweet and sour candies, and so much more.
Important: You must register at least 48 hours before your birthday to get the special birthday surprise email.
The Body Shop
Enjoy a free gift on your birthday valued up to $10 from The Body Shop!
All you need to do to get this offer is join their Love Your Body Club.
Await this awesome reward to your inbox around your birthday.
The Body Shop makes high-quality and completely vegan beauty and skincare products, including their famous body butter and body wash products.
Plus, with this rewards program, earn points for every dollar you spend at The Body Shop, and be sent exclusive offers and promotions right to your inbox. You'll be sent a membership card which you can use in store, but you do not need the card to earn your points.
It's hard to top a free beauty gift!
Freebies.com
There's no doubt about it, free stuff just makes a birthday better.
That's why we now give our members +1000 bonus points to celebrate their birthdays!
Looking for more points? Check out easy and fun ways to earn points on Freebies.com.
Enjoy this bonus and use it to enter to win prizes on our site.
Only site members can win our exclusive prizes, so if you're not yet a member, sign up for your free membership and be a part of the club!
Since your only birthday only comes once a year, feel like everyday is a celebration by checking Freebies.com daily! We are always searching the web for the best freebies, coupons, discounts, giveaways, and prize draws and posting those offers here for our members to enjoy.
Be sure to share this list with your friends so they can take advantage of these great offers!
Click
Share With Friends