Become a Twitter Insider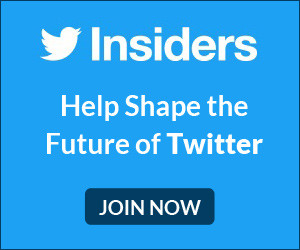 Share With Friends
Date: Jun 18th, 2018
Do you love Twitter?
Do you love sharing your thoughts and opinions?
Become a Twitter Insider and help shape the future of Twitter and give valuable feedback to major brands and companies!
What is a Twitter Insider?
Twitter Insiders is a network of over 12,000 Twitter users that participate in research studies to help Twitter and major companies gather data.
These major companies rely on Twitter Insiders to get insights on their products and services from users! Plus, your input will also be valuable to Twitter itself.
Join now and help improve Twitter!