Get Approved for $1,000 Credit Line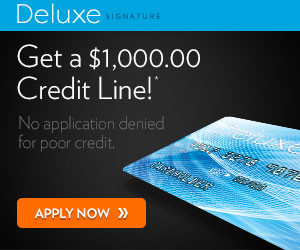 Share With Friends
Date: Jul 7th, 2018
Does your poor/no credit prevent you from purchasing the items you want?
Apply now with Deluxe Signature and get a $1,000 credit line - your approval is guaranteed!
Deluxe Signature is designed specifically for people with bad or no credit.
This card offers you the freedom to purchase the things you need.
It's super easy to get started, and they offer 0% interest on any/all purchases for the life of your Deluxe Signature Club membership.
You can shop with confidence in their exclusive online store, which features products from all the major name brands you know and love.
Why wait?
Apply now and get your credit line!