Get Paid to Shop with ShopTracker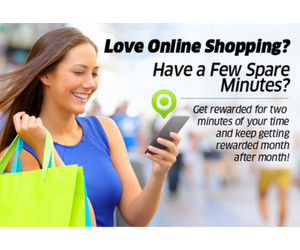 Share With Friends
Date: Jun 19th, 2018
Do you want to get paid to shop?
You read that right!
Sign up with ShopTracker and get paid rewards for shopping online.
ShopTracker offers paid rewards when you let them track your online shopping purchases.
Major brands rely on the valuable data collected from consumers like you to improve their products and services.
You can get rewarded for 2 minutes of your time, and you'll keep getting rewarded month after month.
Simply fill out the signup form to join for free. This process is simple and only takes a few minutes.
Then, download the ShopTracker app. The application catalogs only shopping data/purchase history and they guarantee your anonymity and security.
After joining and installing the app, you'll get a $3 code emailed to you within 48 hours. You can continue earning with this simple process every month, and they'll remind you when you can do it again.
Why wait?
Sign up today and get paid to shop!